! THURSDAY REPORT ON-LINE><! 05/11/1998 Issue><! By: S. Mehrad B.Eng. For comments and problems contact: technical@mehrad.qc.ca><! http://www.mehrad.qc.ca>


<! ________________________________________________________________________________>
Bright prospects for CFI projects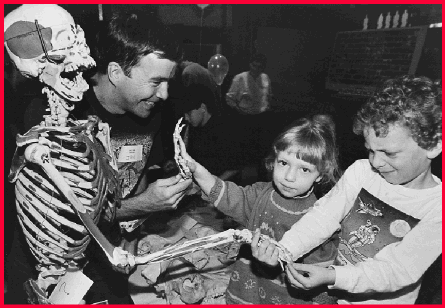 April Rajchgot, 3, and her brother Trevor, 5, met this skeleton just in time for Halloween, courtesy of Biology PhD student Ian Ferguson. They attended the annual Concordia Science and Technology Exhibition last weekend at Pointe Claire's Stewart Hall, which was filled with intriguing exhibits and demonstrations in the pure and applied sciences. <! ________________________________________________________________________________> <! ________________________________________________________________________________>

by Barbara Black
---
Concordia researchers report encouraging results from their applications to the $800-million Canada Foundation for Innovation (CFI). In fact, the University's success rate with the fund stands at 54 per cent, well above average.
The CFI was launched last spring as an effort by the federal government to give the country's science research infrastructure a shot in the arm, and competition for funding has been fierce. Phase One of the process saw the acceptance of two Concordia applications for CFI "New Opportunities" awards.
Electrical and Computer Engineering Professors S. Tahar and F. Khendek will receive funding for a project called Infrastructure to Study Novel Design, Synthesis and
Verification Techniques for Complex Communications Systems. (See story, below.)
A grant for $400,000 was also awarded to the School for Building to help establish an Environmental Engineering Laboratory to work in soil remediation and related environmental issues. While the original applicant, Professor John Campanelli, has left Concordia for a U.S. institution, the grant will be awarded pending the appointment of an appropriate new faculty member.
This CFI support provides timely added value to a major grant received recently from the EJLB Foundation. It also underpins the School's efforts to launch a Graduate Certificate in Environmental Engineering on Industrial Waste Management.
The Environmental Engineering Laboratory will be a state-of-the-art facility housing analytical instruments and larger-scale pilot equipment designed to support fundamental and applied research in the remediation of soil contaminants ranging from hydrophobic organics to heavy metals.
In line with this development, the Engineering and Computer Science Faculty Council decided in September to change the name of the School for Building to the Department of
Building, Civil and Environmental Engineering. The name change will go through the usual channels before becoming final.
Preliminary news on the second phase of CFI applications looks promising. In the over-$350,000 category, two projects have been invited to apply, and another, involving substantial construction costs, is being reviewed along with other similar projects from across Canada.
Two projects in the under-$350,000 category have been approved for funding. One is by Psychology Professor Dolores Pushkar, who is active in the Centre for Research in Human Development, and the other by Mechanical Engineering Professor Van Suong Hoa. <! ________________________________________________________________________________>

Copyright 1998 Concordia's Thursday Report.