! THURSDAY REPORT ON-LINE><! 05/11/1998 Issue><! By: S. Mehrad B.Eng. For comments and problems contact: technical@mehrad.qc.ca><! http://www.mehrad.qc.ca>
<! ________________________________________________________________________________>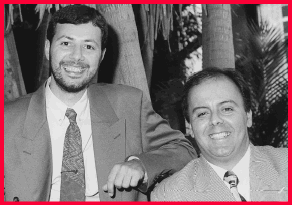 by Sylvain Comeau
---
In August, the Canada Foundation for Innovation announced two research grants for Concordia as part of $36 million in new funding to 26 Canadian universities.
Sofiène Tahar and Ferhat Khendek, professors in the Department of Electrical and Computer Engineering, received a $500,000 grant in support of their research on specification and verification techniques for telecommunication systems. The researchers explain that their work is akin to quality assurance for software and hardware systems.
"Quality control is done at the end, once a product is complete. Quality assurance means trying to ensure the quality as early as possible, during the early phases of the development cycle," Khendek explained.
The idea is for companies to avert the kinds of technical bugs that can generate bad publicity.
"The earlier you detect a bug, the cheaper it is to solve," Tahar said. "If you let your customers debug -- find the errors -- you will pay a high price in the marketplace."
Essentially, their work consists of devising methodology and writing software to assist hardware and software developers. Tahar points out that there is little room for error today in both software, with its millions of lines of code, and in hardware.
"Today, microchips include more than 10 million transistors. You cannot count the number of bugs that can occur. They can be introduced in the design stage, in the implementation stage, or in manufacturing. There's no way to catch them all."
Their software is designed to test nearly every intended function of a given hardware of software system, by putting it through its paces.
"Our software tries to simulate the whole range of system functions and possibilities," Khendek said, "and then detects any problems in execution by comparing the system's behaviour to the requirements."
Because of the vast array of tests that need to be done, "realistically, we can obtain a 95-per-cent level of confidence. You cannot exhaust the whole range of behaviour of a large communications system."
The researchers are conducting a number of application-oriented projects for companies like Nortel and Newbridge Networks, developing methods of testing ATM systems, broadband satellite communications and real-time embedded systems.
"Whatever money we get, whether from federal agencies or provincial agencies or industrial partners, has to be used in direct industry applications," Tahar said. They have also received funding from NSERC and FCAR.
"Telecommunications is one of the high priority domains for funding in Canada," Khendek added. "And hardware and software quality assurance is another big priority because we rely more and more on computers. We cannot afford to have them fail."
Another benefit for industry are the students who will become tomorrow's -- or even today's -- telecommunications professionals.
"Our students often get snapped up by industry before they graduate," Tahar said. "They get offers as soon as they publish their first research paper. We have a hard time hiring enough graduate students for our own research purposes."
Professors Sofiène Tahar and Ferhat Khendek are not in the jungle, but in the palm-filled lobby of the downtown Sheraton Centre, where they enjoyed a reception for Montreal-area recipients of Canada Foundation for Innovation awards on October 22. Their grant will help buy powerful computers and software tools. <! ________________________________________________________________________________>