! THURSDAY REPORT ON-LINE> <! 12/04/98 Issue> <! By: S. Mehrad B.Eng. For comments and problems contact: technical@mehrad.qc.ca> <! http://www.mehrad.qc.ca>


<! ________________________________________________________________________________>
Stingers do us proud at Vanier Cup
by Howard Bokser
---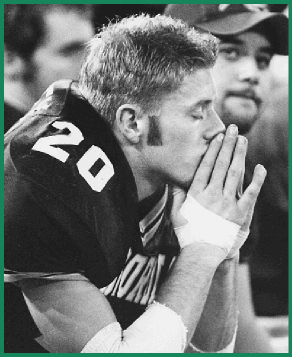 Football player Greg Casey's face e xpresses his disappointment as the Vanier Cup game ends in defeat for the Stingers. Casey had intercepted the ball in the third quarter and made a 56-yard return for a touchdown, but late in the game, the University of Saskatchewan Huskies recovered a Stingers' fumble in the end zone to win 24-17.


"Close" usually doesn't count in sport -- it's the victors who get the cigar. But for the 1998 Concordia football Stingers, coming this close to beating the heavily favoured University of Saskatchewan Huskies in last Saturday's Vanier Cup was a triumph in itself.
After two heart-stopping playoff wins allowed them to reach the CIAU championship game, the Stingers nearly did it again, leading with less than five minutes left in the contest before falling 24-17 in front of a national television audience and a SkyDome crowd of 15,157.
The stands were teeming with Concordia supporters, many of whom had trekked to Toronto from Montreal -- including two busloads that left Loyola at 5:30 a.m. on game day. They made their presence felt by shouting and waving the Concordia colours.
While the Huskies were making their third Vanier Cup appearance in the past five years, this was Concordia's first visit. It allowed the school to gain national notoriety and the players to savour the hoopla of award banquets, media scrutiny and playing at the SkyDome.
Coach Pat Sheahan kept his players focussed on the game, and the team played extremely well, particularly quarterback Jon Kronemeyer, making his first-ever start (replacing injured Sean Hoas).
Although the match was lost on a turnover with only 2:08 remaining, the kids appeared disappointed but not devastated. At game's end, players walked over to the stands to hug and chat with family and friends, and coaches joined their wives and kids. They had survived the season, the week, the game, and they took back an experience they won't quickly forget. <! _______________________________________________________________________________>

Copyright 1998 Concordia's Thursday Report.