! THURSDAY REPORT ON-LINE> <! 12/04/98 Issue> <! By: S. Mehrad B.Eng. For comments and problems contact: technical@mehrad.qc.ca> <! http://www.mehrad.qc.ca>


<! ________________________________________________________________________________>
Contest launched for 25th anniversary projects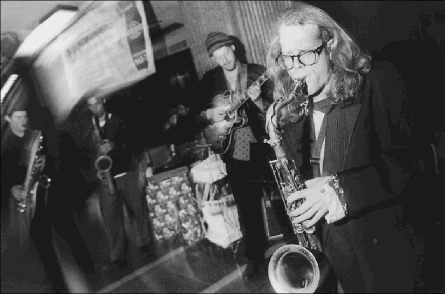 A student jazz combo called The Heat Seekers revved up the temperature on November 25, when they played on the Loyola and Sir George Williams campuses to publicize the 25th anniversary projects contest.
It was a memorable session for the band, Peter Gemmell reported later. "A real idea for a recording and performing project came out of that experience. We already have the names for the first four albums." The ambitious musicians are Aaron Mathers (tenor and baritone saxophones), Gemmell (tenor and alto sax), Noubar Karadjian (tenor sax), Bill Welham (guitar), Martian Garbulinsky (contrabass) and Tyson Schallmann (drums).
Concordia was born out of the 1974 merger of Sir George Williams University and Loyola College, so all next year, 1999-2000, we will be celebrating our first quarter-century.
Last week (appropriately enough, on the 25th of the month), a student jazz band played on both campuses while other student volunteers handed out leaflets announcing a contest for celebratory projects of all kinds.
The 25 prize-winners will each receive a box of 25 fine chocolates from Café Toman.
The deadline for entries will be January 25. Submit them to the Concordia 25th Anniversary Committee, 1455 de Maisonneuve Blvd. W., BC-201. E-mail: 25thann@alcor.concordia.ca. Fax: 848-8765. Drop-off: The security desk in the Administration Building at Loyola, or the information desk in the Henry F. Hall Building at Sir George.
Let your imagination run wild. Think of ways to celebrate how much has been accomplished in so short a time. Dream up projects that build on our commitment to open, accessible and innovative education. Use the opportunity to showcase our faculty, students and staff. Celebrate our close links with the community beyond our walls.
We have much to celebrate. Let's do it through special events and projects, as well as already scheduled activities, beginning in August 1999.
25th anniversary committee:
Nancy Marrelli: phone, 848-7776, fax, 848-2857, nmareli@alcor
Garry Milton: phone, 848-4844, fax, 848-8765, garrym@vax2
Dennis Murphy: phone, 848-2084, fax, 848-2877, murphyd@vax2
Maria Paradiso: phone, 848-4805, fax, 848-4550, mariap@vax2
Rosemarie Schade: phone, 848-2430, fax, 848-4537, rschade@vax2
Ann Vroom: phone, 848-3816, fax, 848-2826, avroom@coral
Laurie Zack: phone, 848-4889, fax, 848-2814, laurie@alcor


<! _______________________________________________________________________________>

Copyright 1998 Concordia's Thursday Report.