! CONCORDIA'S THURSDAY REPORT ON-LINE> <! Nov. 4, 99 Issue> <! Site Designede and Developed by: S. Mehrad B.Eng.> <! For comments and problems contact: technical@mehrad.qc.ca> <! http://www.mehrad.qc.ca> <! also:> <! http://www.software-farm.com>



<! ________________________________________________________________________________>
Passion for Ingmar Bergman yields book
by Sylvain Comeau
---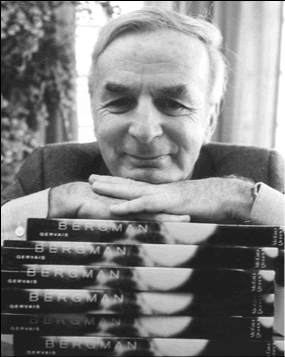 Listen to Communications Studies Professor Marc Gervais talk about Ingmar Bergman.
"He is a figure in cinema who revealed to us that film can be a voice in culture, like any great art. It is more than just the latest action blockbuster; how can we talk about theatre and not mention Shakespeare?"
Gervais' passion for Bergman has yielded a Concordia course on the Swedish film legend, Bergman and the Scandanavians, and a book, Ingmar Bergman: Magician of the Cinema and Prophet of our Times.
The literature on Bergman is even more voluminous than the great man's film output, which includes such classics as The Seventh Seal, Wild Strawberries, Smiles of a Summer Night, and Cries and Whispers. Gervais, in his book, pays less attention to the classic Bergman themes than the way that the director put cinema in the forefront of culture, not just entertainment.
"There have been a lot of psychological analyses of his characters, but I don't think anyone else has revealed how Bergman has been right at the heart of the great cultural flow, the great cultural questions that writers and philosophers have been concerned about," Gervais said in an interview.
Gervais reveals his game plan right off the bat, in the book's preface. As a result, thanks to his high art aspirations and achievements, Bergman changed how all movies are viewed and analyzed, not just his own.
"There certainly were admirable film directors before Bergman hit the international scene in the late 1950s. Certain writers on film did insist on treating the cinema as a serious aspect of the culture. But, for whatever reason, very few have been the film directors who succeeded in doing what certain other artists, especially writers, have taken for granted through the centuries: to engage explicitly in the great conversation of the time."
In the book, Gervais also delves into Bergman's movie magic, an elusive quality that saves his movies from being sterile philosophical or intellectual exercises.
"Surprisingly few authors have tried to explain how Bergman has enthralled audiences -- albeit a select audience -- over the years. It is vital to show the power of his films, how he has grabbed us emotionally while exploring universal ideas."
In other words, the master knows how to sell his intellectual musings to an audience. Because he married his themes -- love, the silence of God, the meaning of life and death -- with cinematic magic, Bergman showed the world that movies can be edifying and enthralling at the same time. Ever since, the relatively new medium has been taken more seriously and held up to a higher standard.
"The breakthrough came with Bergman," Gervais said. "Because of Bergman, more than any other director, people today look for meaning in movies. It is much more commonly known as an art form today, even though most movies today are made as consumer objects. People expect more from movies, thanks to him."
Gervais teaches his course on Bergman every four years; he will next teach it in 2002. Next term, Gervais will teach a course on the American director John Ford, director of classic westerns like Stagecoach.
Photo: Marc Gervais's book-launching at Loyola last week was well attended by friends and family.
More on Concordia authors in our next issue.
<! _______________________________________________________________________________>




Copyright 1999 Concordia's Thursday Report.