! CONCORDIA'S THURSDAY REPORT ON-LINE> <! Nov. 4, 99 Issue> <! Site Designede and Developed by: S. Mehrad B.Eng.> <! For comments and problems contact: technical@mehrad.qc.ca> <! http://www.mehrad.qc.ca> <! also:> <! http://www.software-farm.com>



<! ________________________________________________________________________________>
Graduate student has his finger on the Canadarm
by Tim Hornyak
---

Few Concordia students can claim that their handiwork has travelled at 25 times the speed of sound at 240 km above sea level, but graduate student Vladimir Glavac's engineering skills have a broad reach, spanning work on satellite communications and the circuitry in this country's most acclaimed piece of technology, the Canadarm.
Glavac, 39, was able to see his work in action last December, when NASA's space shuttle Endeavor's robotic arm connected Unity and Zarya, the first two components of the orbiting International Space Station, scheduled to be completed by 2003.
"It was a really exciting project," said Glavac, who is now studying high-speed digital communications for a master's degree in Applied Science in Electrical Engi neering. "It was a big relief when the arm connected the two modules together. There was a great deal of excitement. I mean, you don't very often have the chance to build something that's going to go into space."
When NASA commissioned Canadarm designer Spar Aerospace to upgrade the powerful shuttle appendage, an eight-year overhaul was initiated.
Working at Spar's Ste-Anne-de-Bellevue plant in the West Island (now EMS Technologies), Glavac was the unit engineer in charge of the overall design and testing of the arm's seven electronics units, or servo-power amplifiers, which are housed in coated aluminum boxes to protect circuitry from space-borne radiation. The boxes are responsible for driving the Canadarm's direct-current motors, which enable it to bend, rotate and manipulate objects.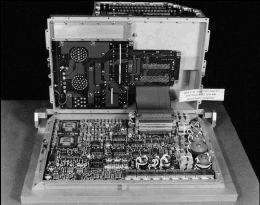 After three years of meticulous planning, in which every detail had to be approved by NASA personnel, arm engineers began carrying out the project's three main goals.

"First, the electronics were starting to get old, and it was tough to find replacement parts," Glavac said. "Second, we had to increase the health-monitoring abilities of the unit. Thirdly, we wanted to enable the arm to handle large space-station loads."

Officials at Spar celebrated the Canadarm's 50th mission last year. Since the early 1980s, Canadarms have collectively spent over 15 months in space, traveled a distance roughly equal to that from the Earth to the sun and back and completed over 6,500 orbits around the planet. Newer versions of the arm will be attached to the International Space Station, and will feature seven joints instead of the traditional six, enhancing maneuverability.

Glavac earned a bachelor's degree in electrical engineering from McGill University in 1983, and later worked on aircraft instrumentation at Canadian Marconi for about eight years. His electronics experience landed him a position at Spar. The West Island facility was sold to EMS Technologies, where Glavac now works full-time on satellite and wireless communications projects. Collaborating with NASA, however, exposed Glavac to a more thorough, exacting approach to engineering compared to his work on terrestrial systems.

"What is different is the amount of analysis and testing that goes into proving that the circuitry will work as it's supposed to," Glavac said. "If something goes wrong, you could lose a satellite, or the arm itself. If worse comes to worse, they have explosive bolts to jettison the arm into space."

<! _______________________________________________________________________________>




Copyright 1999 Concordia's Thursday Report.