! CONCORDIA'S THURSDAY REPORT ON-LINE> <! Nov. 4, 99 Issue> <! Site Designede and Developed by: S. Mehrad B.Eng.> <! For comments and problems contact: technical@mehrad.qc.ca> <! http://www.mehrad.qc.ca> <! also:> <! http://www.software-farm.com>



<! ________________________________________________________________________________>
Brooke Jeffrey takes on the political right
by Cory Monahan
---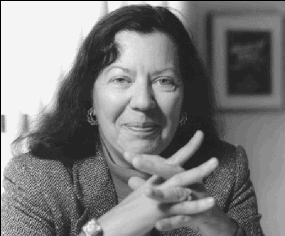 It's not hard to coax a smile from Brooke Jeffrey, author of Hard Right Turn: The New Face of Neo-Conservatism in Canada. Just ask about the first stop of her recent cross-Canada book tour.

She'll take pleasure in recounting the details of her run-in with Vancouver's Rafe Mair, a "right-wing iconoclastic radio character" with a reputation for making mincemeat of grown men and politicians.

Jeffrey entered his studio for a live interview with trepidation. A passionate and unabashed liberal, she considered herself an author Mair would love to rip into, but that early morning, fate was on her side.

"We're not three minutes into the interview, and he spills an enormous glass of water all over his notes, my book, his microphone, the table, everything. We'll never know what kind of interview he would have done. After that, he was just wonderful. He told everyone to run out and buy my book. He just loved everything I had to say."

The book that Mair didn't have a chance to take apart focuses on three big-name politicos, Ralph Klein, Preston Manning and Mike Harris. Jeffrey said it has an important underlying theme.

"Whether these people succeed or fail in the long term, they've had really serious implications for political discourse," she said. "We all use the word taxpayer instead of citizen; we all use the term stakeholder; we talk about the bottom line in government. We have a way of looking at things we never did before."

Jeffrey has the credentials to back up her views. She has worked on such national issues as native self-government and human rights legislation, and has previously published two books on Mulroney Conservatives, Strange Bedfellows (1991) and Breaking Faith (1993).

After completing her PhD at Carleton University, she spent 15 years in the public service. During that period, she developed invaluable connections that enable her to secure internships for students in Concordia's Master's in Public Policy and Public Administration (MPPPA) program, one of only two in the country that offer internships in the public service. She was recruited in 1991 to teach in the MPPPA program.

"That's one of the things I can bring to teaching in the program here at Concordia: I have practical, hands-on experience, both as a bureaucrat and as a politician. It's one thing to know the people, but it's even better to know the system."

In 1993, she left her teaching post in the Political Science Department and moved to British Columbia to run for the Liberals in her hometown riding of Okanagan-Shuswap. Though she lost the election to the Reform candidate and is now back at Concordia, she hasn't given up her goal of establishing "an enhanced Liberal presence in the West."

"I'm very concerned about communication between the West and Ottawa," she said, "and I think developing that is one of the things I can do with this book."

<! _______________________________________________________________________________>




Copyright 1999 Concordia's Thursday Report.