! CONCORDIA'S THURSDAY REPORT ON-LINE> <! Nov. 4, 99 Issue> <! Site Designede and Developed by: S. Mehrad B.Eng.> <! For comments and problems contact: technical@mehrad.qc.ca> <! http://www.mehrad.qc.ca> <! also:> <! http://www.software-farm.com>



<! ________________________________________________________________________________>
Black students are a recruitment target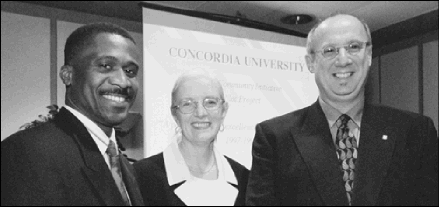 The team behind the Black Community Initiative, a two-year pilot project aimed at student recruitment, held a reception last week to celebrate the completion of their report.

However, the work has just begun, in the sense that the project's recommendations are being put into action to raise Concordia's profile in the black community.

The idea goes back to 1997, and an ad hoc committee on multiculturalism in which Professors Clarence Bayne and Martin Kusy were active. The project took some time finding an institutional home, but it really took on steam in the fall of 1998, when it was undertaken by the Dean of Students Office, through Advocacy and Support Services.

With Dave McKenzie as part-time consultant, the team built up a network of contacts in the Faculties, the School of Graduate Studies, and various support departments. They contacted black faculty and staff, and enlisted their support in a number of ways, including advising and mentoring.

Good relationships were also developed with black organizations across the city. A brochure and poster were widely distributed, and "Concordia Corners" were set up at appropriate events to provide a range of information about what the university has to offer.

Among the report's recommendations presented on October 25 is a call for targeted marketing that would showcase our black faculty members. Ann Kerby, Director of Advocacy and Support Services, said that high-school and CEGEP students were impressed to see them at events staged during the project. Similarly, the report calls for specifically directed bursaries and scholarships, and suggests that black students' progress at Concordia be systematically tracked.

As a result of another recommendation, McKenzie is working full-time, and the project's work is being transferred permanently to the Office of the Registrar. He is now spending three days a week in that office, being trained as a student recruiter, and the other two days in Kerby's office, which continues to provide funding.

- Barbara Black

Photo: Enrolment Officer Dave McKenzie, Director of Advocacy and Support Ann Kerby and Dean of Students Don Boisvert

<! _______________________________________________________________________________>




Copyright 1999 Concordia's Thursday Report.