! THURSDAY REPORT ON-LINE> <! 04/03/99 Issue> <! Site Designede and Developed by: S. Mehrad B.Eng. For comments and problems contact: technical@mehrad.qc.ca> <! http://www.mehrad.qc.ca>



<! ________________________________________________________________________________>
Going to the dogs
Business and engineering students tackle cases together
by Tim Hornyak
---
Some engineering and business students have gone to the dogs to sniff out new products for a local
pet firm.
In a joint course that is part mechanical engineering and part entrepreneurship, students are inventing new applications for a spray technology found in Aboistop, an anti-barking device for dogs sold internationally by Multivet of Saint-Hyacinthe. About 20 students in three groups are competing for a $500 prize offered by the firm for the best new product design and marketing plan for the sprayer. The prize is to be awarded at the end of term.
"This is a completely different way of thinking for us," said Pino Panzuto, a fourth-year Mechanical Engineering student whose group is designing an automated, customized scent sprayer. "There's more of a
creative side to the engineering process instead of just plugging in
a formula."
In addition to designing a new product, Panzuto is honing his job skills, and applying to companies such as Bombardier, Pratt & Whitney and CAE.
"This type of open-ended design problem is the way it works in industry. It's much more like the real world," he said. "We rarely look at the post-design phase, the whole process of trying to market and sell a product, and to try to make it visually pleasing to customers."
Other groups are developing sprayers to feed and water plants and to wake drivers who have fallen asleep at the wheel. The course is
an interdisciplinary experiment designed to reflect the market and industry constraints on potential products, all the way from brainstorming to advertising.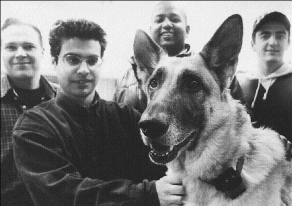 "The image of the engineering student is that of Dilbert, and I'm trying to break the myth," said Mechanical Engineering Professor Joseph Pegna, who teaches Machine Design. In the course, students "reverse-engineered" the anti-barking device to figure out how it worked, and tested it on dogs. A pager-sized gadget mounted on a dog collar propels an irritating citronella mist into the dog's face when it barks.

Multivet purchased the Aboistop concept from a French inventor and began marketing it in the early 1990s. Veterinarians took an interest, and the product was featured on Oprah and CNN, but when technical problems caused a high number of product returns, Multivet turned to Concordia's Faculty of Engineering and Computer Science for help. Last spring, another class taught by Pegna reverse-engineered the device and discovered a crucial design flaw that was later corrected for the current Aboistop design.

"The device right now is much more reliable," said Mark Garon, vice-president of Multivet. "I'd say we've solved about 99.9 per cent of the problems."

Working with students can also benefit a company's human resources, Garon said. "It's a positive experience for someone who's maybe looking to hire a starting engineer, because you do get to meet the students; if you click with someone, you know you can hire him after. It's very good for that."

Pegna said students build up expertise very quickly in this course. "One of the marketable skills that they build first and foremost is the ability to work in teams."

The other half of each team is drawn from Entrepreneurship, a course in the Faculty of Commerce and Administration taught by Professor Josˇe Audet. Her students get to learn the technical nuts and bolts of new inventions. They recently drafted detailed business plans of their applications for Audet.

"Engineers have a lot of imagination," says third-year Commerce student Lyne Landry. Her market research on the scent sprayer revealed that odour can influence shopping habits. "But it's always good to deal with another discipline beyond just commerce and explain our arguments to them clearly. It's a great experience."

Photo:


Members of Joe Pegna's class in reverse engineering show off one of many products they've worked on, an anti-barking device. Above are students (back row) Ron Lee Latchman, Wassim Sahelo and Paul Desjardins. In front is Pino Panzuto with canine model Nishka.

<! _______________________________________________________________________________>




Copyright 1999 Concordia's Thursday Report.