! THURSDAY REPORT ON-LINE> <! 04/03/99 Issue> <! Site Designede and Developed by: S. Mehrad B.Eng. For comments and problems contact: technical@mehrad.qc.ca> <! http://www.mehrad.qc.ca>



<! ________________________________________________________________________________>
Dawn Wiseman: A true believer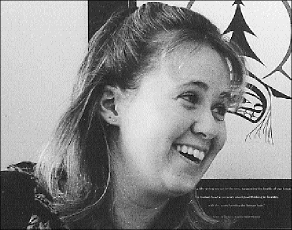 The keynote speaker who sent high-school students off on their Engineers of Tomorrow tour with words of encouragement was Dawn Wiseman, a 1991 graduate in Building Engineering who is now doing her MA in Media Studies.
Wiseman is also full-time coordinator of the Native Access to Engineering program in the Faculty of Engineering and Computer Science, and an enthusiastic booster of engineering in all its forms.
She was interviewed last weekend on CBC Radio's All in a Weekend and talked about how she travels to Quebec's aboriginal communities, stressing the importance of staying in school and tailoring her definition of engineers to hit home with her audience.
"I tell them, for example, about how biomedical engineering is used to design and make prostheses," she said. "Diabetes is common in aboriginal communities, so they know about amputations, and this really interests them."
Wiseman told host Shelley Pomerance that she had had a wonderful experience as an undergraduate, partly because she was such a willing participant in extracurricular activities.
She worked as communications officer for the Faculty of Engineering and Computer Science when Communication Studies Professor Don Taddeo was Dean. He, Professors Corinne Jetté and Dennis Murphy all encouraged her to pursue a diploma, and then an MA, in the communications field.
"I discovered what I do best," Wiseman explained. "Not so much the heavy-duty engineering projects as explaining engineering concepts to other people, and doing outreach."
This is an excerpt from Dawn Wiseman's speech to the visiting high-school students on February 16:
"When I started my undergraduate degree in 1986, the percentage of women enrolled in engineering programs across Canada was somewhere between 10 and 12 per cent. Now it is between 20 and 25 per cent, which is a significant increase. That percentage still needs to be higher, because engineering is a profession which, whether you know it or not, affects your life pretty much 24 hours a day.
"There are over 100 different types of engineering. Chemical, mechanical, electrical and civil are the biggies. The others are subdisciplines and specialties which arise from these, such as materials, lunar, ocean, aeronautics, computer.
"I received my degree from Concordia in building engineering. It's an interdisciplinary study in engineering, which means I studied lots of different bits from different areas but all related to buildings and the built environment from conception through maintenance.
"I started considering engineering when I was about your age. I actually went as far as to ask my physics teacher, a woman I really admired and respected, where she thought I should study engineering. She looked at me as if I had lost my mind, and asked, 'Why would you want to do that?'
"It was kind of a horrible thing for a teacher to say to a student, but it's not a bad question. Why would you want to do it? Because I won't lie to you, getting from where you are now to receiving a BEng is a lot of hard work. You have to take your sciences in high school, you have to take Pure and Applied or Health in CEGEP and you have to get decent marks.
"Then, when you get in to university, the degree is a year longer than everyone else's, and it is almost life-consuming at times. It's hard work; it's difficult subject matter. But it's also one of the most challenging, exciting, applicable and versatile professions you could choose.
"Because engineers work at the cutting edge, the challenge and excitement of what they do is always there and always changing. It is a profession in which you will learn continuously throughout your career, and it will let you contribute to society in a really concrete way." <! _______________________________________________________________________________>



Copyright 1999 Concordia's Thursday Report.