! THURSDAY REPORT ON-LINE> <! 04/03/99 Issue> <! Site Designede and Developed by: S. Mehrad B.Eng. For comments and problems contact: technical@mehrad.qc.ca> <! http://www.mehrad.qc.ca>



<! ________________________________________________________________________________>
Engineers of Tomorrow
A group of young women from Montreal-area high schools got an up-close look at a different educational option when the Faculty of Engineering and Computer Science held their annual Engineers of Tomorrow event on February 17.
In the Silicon Solid State Devices Lab, the students saw how computer chips are developed for such microelectronic devices as transistors, resistors, actuators and sensors.
In the Human Factors Lab, they got a glimpse of how engineers specialize in ergonomics using mannequin software and a task simulator. A presentation was given to the students on the latest engineering technology in the biomedical field, in response to the overwhelming number of women interested in this particular area.
The young women visited a flight simulator, and were told about exciting developments in aeronautics. The Society of Automotive Engineers chapter showed off their solar and electric cars, which included sedans, off-road vehicles and radio-controlled aircraft.
Then the young visitors got a chance to do some engineering themselves through some amusing and practical experiments: bridge building, the "egg drop" (see if you can protect the egg from breaking), and a telegraph experiment.
Before the young women left, they got some parting words from engineering professor Claire Deschênes, of Université Laval.
The participating schools were Sacred Heart, Trafalgar, FACE, Lauren Hill Academy, Hudson High, Lindsay Place, Lachine High, Lester B. Pearson, Wagar, Lemoyne, Westmount High, Beaconsfield High, Lasalle Comprehensive, Riverdale, Miss Edgar's and Miss Cramp's, Queen of Angels Academy, Royal West Academy, Argyle and Verdun High.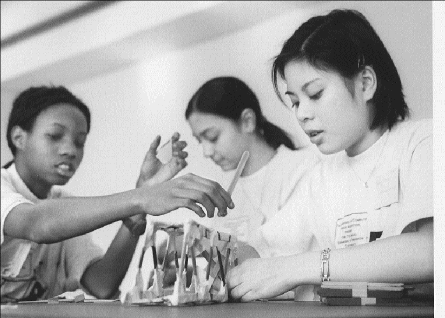 High-school students enjoy trying to make a stable bridge out of popsicle sticks at the Engineers of Tomorrow event. Tours and experiments of the Faculty of Engineering and Computer Science were conducted in a round-robin fashion so that everybody had a chance to see and do as much as possible. <! _______________________________________________________________________________>



Copyright 1999 Concordia's Thursday Report.