! THURSDAY REPORT ON-LINE> <! 04/03/99 Issue> <! Site Designede and Developed by: S. Mehrad B.Eng. For comments and problems contact: technical@mehrad.qc.ca> <! http://www.mehrad.qc.ca>



<! ________________________________________________________________________________>

Anna Alexander blesses the name recognition of Concordia's women's studies centre
Simone de Beauvoir is still being discovered
by Barbara Black
---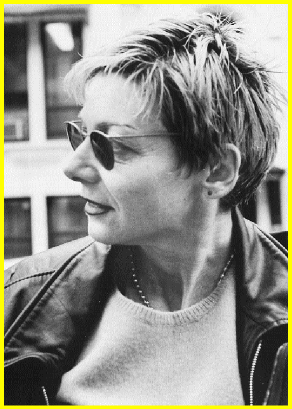 Fifty years ago, the French publishing house Librairie Gallimard published a book by a young philosopher and novelist called Simone de Beauvoir that started a revolution. The book was Le Deuxième Sexe and it was soon translated into 121 languages, including English. It started a deluge of books, articles and manifestos by women roused to anger and self-awareness.
Recently, there was a conference on Simone de Beauvoir in Paris at which every aspect of the feminist heroine was celebrated, from the lofty to the trivial. Anna Alexander travelled from Montreal to give a paper at the conference, and found herself marketing Concordia's Simone de Beauvoir Institute.
"I ran completely out of flyers," she exclaimed. "There's such name recognition with the Simone de Beauvoir Institute. Do you know that Concordia has the only academic centre in her name in the world? And yet it's so appallingly funded. I wished that I could have been a more official representative."
She found the conference exciting. Early diaries have been released that point to de Beauvoir having given Jean-Paul Sartre and his male colleagues many of the ideas that were later called existentialism. De Beauvoir lived beside, though never with, Sartre virtually all their adult lives. She had a sometimes maddening tendency to defer to him, refusing the title of philosopher, although Alexander now calls this decision "postmodern and strategic."
"There's a whole new wave starting in de Beauvoir scholarship," Alexander said with characteristic enthusiasm. "She was a philosopher in her own right. She gave the male phenomenologists something to develop, but they made it general, whereas she kept it concept-driven. In fact, she politicizes postmodernism."
Alexander has applied de Beauvoir's ethics and her belief in the singularity of the individual woman to addiction, particularly smoking. She wrote a memoir called I, A Smoker, got grants and favourable attention from several addiction agencies, as well as teaching contracts at the Université du Québec à Montréal.
She got her Interdisciplinary PhD in Humanities at Concordia in 1992 with a thesis on home, community and belonging from ancient Greece to the present that made her a finalist for that year's Prix d'Excellence for best thesis.
This year, Alexander is a visiting scholar at McGill University, working on several books. At the Simone de Beauvoir Institute, she has taught courses on feminist ethics, lesbian and bisexual issues, and an introductory course in women's studies
for which she required her students to read the second volume of
The Second Sex in its original French.
"The English translation is very American -- that is, apolitical -- and very dated, and her philosophical terms were obliterated entirely." Alexander said. (It could have been worse. Apparently, the Japanese translation used the words for maternal and feminine interchangeably.) Alexander wrote an article on the subject called "Eclipse of Gender: Simone de Beauvoir and the différence of Translation," which was published in Philosophy Today and identified her with the Institute.
The linguistic versatility of being a Montrealer turned out to be a real advantage at the recent Paris conference, she discovered. "At any one time, either the English-speakers or the French were putting on their headsets for a translation, but I just sat there, getting it all."
See the Back Page for events concerning International Women's Day. <! _______________________________________________________________________________>



Copyright 1999 Concordia's Thursday Report.