! THURSDAY REPORT ON-LINE> <! 04/03/99 Issue> <! Site Designede and Developed by: S. Mehrad B.Eng. For comments and problems contact: technical@mehrad.qc.ca> <! http://www.mehrad.qc.ca>



<! ________________________________________________________________________________>

THE CAMPAIGN FOR A NEW MILLENNIUM
Capital Campaign at $50,351,612
Jarislowsky Foundation creates Canadian Art Institute
Investment counsellor Stephen Jarislowsky is a passionate man. He is outspoken, opinionated, and extremely knowledgeable on many subjects, not least of which is art — Canadian art, to be precise.
His interest in the field, and in the outstanding contributions made by Concordia's Faculty of Fine Arts, inspired him to pledge $500,000 to the Campaign for a New Millennium to establish the Gail and Stephen A. Jarislowsky Chair in Canadian Art, to be housed within a newly created Institute for Studies in Canadian Art.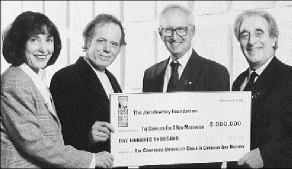 This multi-faceted research institute, to be associated with Concordia's Department of Art History, will examine and help develop the study of the visual arts in Canada. Through collaborative scholarly and general public-oriented means, including video, film, and CD formats, the Institute will maintain a broad and ongoing dialogue on the developing state of studies in the visual arts in Canada.
Jarislowsky's contribution to this exciting project will be enhanced by the efforts of a Board of Patrons, soon to be convened.
- Sami Antaki
Loren Lerner, Art History Professor and Associate Dean of Research and Graduate Studies for Fine Arts, and Fine Arts Dean Christopher Jackson received a $500,000 gift from Stephen Jarislowsky for the creation of a Chair in Canadian Art History. Also on hand (far right), was Rector Frederick Lowy.
Imasco delivers $400,000 pledge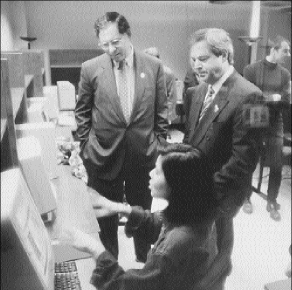 It was with genuine interest in the students and their work that Brian Levitt, president and CEO of Imasco, recently toured the multi-media labs in the Visual Arts Building. His walkabout followed a pledge ceremony during which Levitt presented his company's very real $400,000 pledge to a virtual robot created and manipulated by the lab's LIFEsource Motion Capture System.
Throughout the tour, Levitt and Leadership Division Gifts Chair Jacques Ménard quizzed students about the potential for digital animation in sectors as diverse as architecture and Web site creation. The volunteers came away with a greater appreciation for the added value that Fine Arts students bring to animation through the aesthetic sensibility they develop in the Faculty.
- Sami Antaki
Brian Levitt, president and CEO, Imasco, (standing, at left) and Jacques Ménard, deputy chair, Nesbitt Burns, (also standing) received fascinating demonstrations from students in the Silicon Graphics and Mac labs.
Phone-mail tops $1million
Talk is cheap -- relatively speaking that is, in fundraising terms. And when it's done right, as is the case with the Campaign's phone-mail program, it can generate a lot of goodwill and financial capital.

In the five months it has been in operation, this program, operating as part of the Alumni and Friends Division, has generated just over one million dollars from a calling pool that included Loyola, Sir George Williams and Concordia Arts and Science graduates.

Callers placed nearly 61,000 calls in an attempt to reach the 28,000 graduates in the pool. They spoke directly with more than 16,000 graduates, 27 per cent of whom made pledges.

Remarkably, nearly 1,300 graduates who had never made a gift to the University responded to this personal appeal. The average yearly gift is $161. The next calling session will be aimed at graduates of Concordia's Faculties of Commerce and Administration, and Engineering and Computer Science.

- Sami Antaki

<! _______________________________________________________________________________>




Copyright 1999 Concordia's Thursday Report.