! THURSDAY REPORT ON-LINE> <! 04/03/99 Issue> <! Site Designede and Developed by: S. Mehrad B.Eng. For comments and problems contact: technical@mehrad.qc.ca> <! http://www.mehrad.qc.ca>



<! ________________________________________________________________________________>
Institute for Canadian Jewish Studies launched with lecture, research fellowships
Jewish studies gets a welcome boost
by Derek Cassoff
---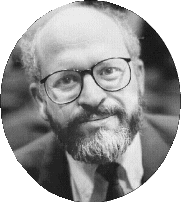 The inaugural lecture of the Concordia University Institute for Canadian Jewish Studies was given by Professor Richard Menkis of the University of British Columbia's Department of Classics, Near Eastern and Religious Studies. His talk, given at Samuel Bronfman House, headquarters of the Canadian Jewish Congress, was titled "Is Canada Different? Myths and Social Realities in the Creation of Canadian Judaisms."
When Sharon Gubbay Helfer went looking for a field of study, she seriously thought about revisiting Papua New Guinea, the exotic nation in the South Pacific where she had been earlier in her life.
However, she realized that she didn't have to travel halfway around the world to find an intriguing community to explore. Instead, she chose the Montreal Jewish community that has been her home since she moved here from Winnipeg at the age of six.
"It's an absolutely unique community that certainly merits loving and dedicated attention," said Gubbay Helfer, a PhD student in religion and a recipient of one of five inaugural fellowships awarded through the University's new Institute for Canadian Jewish Studies.
Thanks in part to those fellowships, funded by Andrea and Charles Bronfman and the Seagram Co. Ltd., Gubbay Helfer will be able to delve into her thesis topic, the development and growth of Montreal's Reconstructionist Synagogue. Others will explore topics as diverse as the Jewish labour movement in Montreal and the evolution of modern Jewish dance.
Religion Professor Norma Joseph, who is the convenor of the Chair in Jewish Studies, said in an interview that the creation of the Institute and the awarding of fellowships will give students the support they need to continue their research.
"In the world of academics, students get very gung-ho about a topic, but then they get a sense of loneliness. They wonder whether anybody really cares about their work other than their supervisors," she said. "Now we can clearly tell them that, yes, the University cares and the Jewish community cares. It gives them a greater sense of purpose and enables them to go on despite the loneliness."
The idea behind the Institute for Canadian Jewish Studies dates back to 1993, when the Canadian government, under its multiculturalism program, provided funds to establish chairs in Canadian Jewish studies at Concordia and at York University in Toronto. While Joseph said that Concordia has always been on the leading edge of Canadian Jewish studies, she has no doubt that the Institute will further enhance that work.
"Some of it will be very interesting and important," she said. "It will give the Canadian Jewish community a sense of pride and a sense of where it needs to go."
Montreal appears to be the perfect backdrop for an Institute of its kind. Not only is the city home to 101,000 Jews -- Canada's oldest Jewish community -- but researchers have access to substantial archival material, stored at the Canadian Jewish Congress's national headquarters.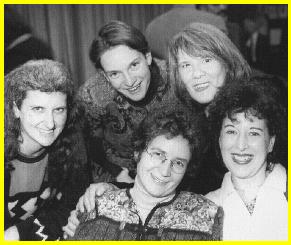 All winners
Presented with research fellowships at the inaugural lecture of the Institute in Canadian Jewish Studies were (clockwise from left) Eve Lerner (Master's in History), Yvonne Hardt (Master's in History), Marlene Bonneau (PhD in Religion), Sharon Gubbay Helfer (PhD in Religion), and Sonia Zylberberg (PhD in Religion) For story, see page 5. <! _______________________________________________________________________________>



Copyright 1999 Concordia's Thursday Report.