! CONCORDIA'S THURSDAY REPORT ON-LINE> <! Dec. 2, 99 Issue> <! Site Designede and Developed by: S. Mehrad B.Eng.> <! For comments and problems contact: technical@mehrad.qc.ca> <! http://www.mehrad.qc.ca> <! also:> <! http://www.software-farm.com>



<! ________________________________________________________________________________>
A new life at Concordia
by Nadine Ishak
---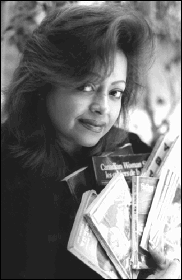 Post-graduate studies can do many things for a student; for Roksana Nazneen, a published author in her native Bangladesh, they've acted as therapy.

The 36-year-old was having a hard time adjusting to married life before she and her husband moved to Montreal in 1988. "It was a reality check for me to find out what kind of world women in Bangladesh were living in."

Although Nazneen was born in Bangladesh, she says she was unaware of what was in store for her because of her unconventional upbringing. "Both my parents were very educated, and had very westernized ideas of life," she said. "They tried to raise us with those kinds of values."

They taught their five children to be independent. Nazneen learned how to drive, play tennis, and shoot at a young age. Her parents were also selective about the children they mixed with, so she believed that the values she had been brought up with were the norm.

Nazneen says that when she got married, the whole fantasy just collapsed. "I became somebody's wife in a big household with about 20 family members," she said. "I felt like I lost part of my identity."

Nazneen had a university degree in sociology and had just published her first novel, a suspense story for teenagers. When her husband found work in Canada, Nazneen saw an opportunity to be free.

'Finally there was nobody to tell me what to do, what to eat, what to wear. I had total freedom. I felt like I was on top of the world." Adapting to life in Montreal was "a picnic." They may not have had more than a couple of changes of clothes, but she and her husband were happy.

Her husband had found some Bangladeshi families in the city and they became a support system for the newcomers. Even the harsh winters were bearable. "I had had my share of summer!"

She enrolled in Concordia's Sociology program, and worked at odd jobs while pursuing her MA. She graduated in 1993, and began her doctoral studies the following year. Early next year, she will defend her thesis, which is centred on a subject close to home: the adaptation of Bangladeshi families in Montreal.

In 1996, Nazneen joined the Sociology Department's part-time teaching staff. She teaches Introduction to Society and Race and Ethnic Relations, weaving her own experience into her teaching. She says her students love it, and often tell her how ideal a candidate she is to teach the course.

In the meantime, she has continued writing paperbacks for her publisher back in Bangladesh. They have published 11 of her novels so far, and the demand is nonstop. Nazneen has decided to use her gift of writing for a special project. Her first English-language book will be based on her own life, but it will be fiction.

"I don't think I have enough liberty to speak my mind yet. Maybe later in life, but I'm not totally secure [right now]."

Nazneen says the focus of her book is to distinguish cultural patterns from religious patterns, which often get confused. "Nowadays there is a trend that [women are] more Muslim than Bangladeshi," she says. "I am a Muslim woman. I am proud of that. But I also have a very strong Bangladeshi tradition. I would say I am a Bangladeshi Muslim woman. At the same time, I am Canadian. I don't see any contradiction there."

Nazneen is aware of the mutually beneficial relationship between her studies, teaching and writing, and her life experience.

"Our culture teaches you not to speak your mind. I'm a big exception, and I find it really hard. But if I can help someone, that's really powerful."

<! _______________________________________________________________________________>




Copyright 1999 Concordia's Thursday Report.