! THURSDAY REPORT ON-LINE> <! 01/04/99 Issue> <! Site Designede and Developed by: S. Mehrad B.Eng. For comments and problems contact: technical@mehrad.qc.ca> <! http://www.mehrad.qc.ca>



<! ________________________________________________________________________________>
Adjunct Professor Brian Kennedy made national headlines with Merck Frosst research
Enzyme linked to diabetes
by Sylvain Comeau
---
Despite an impressive record of achievement, Concordia research seldom yields national headlines. Early in March, however, a diabetes breakthrough with a Concordia connection was trumpeted by news media across the country.
Concordia Adjunct Professor of Biology Brian Kennedy, who is a researcher at pharmaceutical giant Merck Frosst, and McGill Professor Michel Tremblay announced in a paper in the March 6 issue of the journal Science that they had identified a possible cause for type 2 diabetes, an enzyme known as PTP-1B.
The discovery emerged from tests on genetically engineered mice, born without the gene that produces PTP-1B. Those mice have proven seemingly immune to diabetes, despite being fed a classic high-risk North American diet, consisting of 50 per cent fat.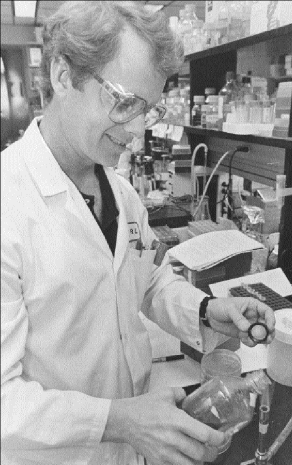 "This discovery started with a Merck Frosst project to develop inhibitors to protein tyrosine phosphatases, a family of enzymes believed to be associated with a number of diseases," Kennedy said.
"Early on, we realized that we were able to make selective peptide inhibitors of PTP-1B, but not for the other members of the family. We needed to know the function of that particular enzyme."
In collaboration with Tremblay, they developed a kind of mutant mouse with the enzyme "knocked out" of its system. Based on the results of the diet experimentation on the mice, Kennedy believes that PTP-1B may regulate insulin, the hormone which, in turn, regulates blood sugar.
"Protein phosphatases act as 'off switches' for some metabolic reactions in the body. Now we think that PTP-1B is the off switch for insulin."
The enzyme may also play a role in such diabetes-related health risks as obesity, high blood pressure and high cholesterol; the mice without the enzyme stayed slim and healthy despite the rich, high-fat diet.
"This is the first time that researchers have seen a link between obesity and diabetes with just one gene. We are trying to find out whether both are related to the enzyme, and how." Kennedy admits that the team is somewhat puzzled by their slim, trim mice, but speculates that one reason could be that fat cells may have some resistance to insulin, and therefore fail to store fat and glucose.
The discovery could hold out hope for diabetics, but only several years down the line. Kennedy's lab at Merck Frosst will continue to work on inhibitors to PTP-1B, which would be designed to dampen but not eliminate the enzyme's effects. A secondary goal may be to develop similar drugs for people considered at high risk of becoming diabetic.
Kennedy says the hallmark of this type 2 diabetes is insulin resistance. "These people have enough insulin, but it doesn't work as well any more. If we can suppress the action of PTP-1B, it may allow insulin to work better. Drugs emerging from the discovery may help restore a healthier balance for diabetics." <! _______________________________________________________________________________>



Copyright 1999 Concordia's Thursday Report.