! THURSDAY REPORT ON-LINE> <! 01/04/99 Issue> <! Site Designede and Developed by: S. Mehrad B.Eng. For comments and problems contact: technical@mehrad.qc.ca> <! http://www.mehrad.qc.ca>



<! ________________________________________________________________________________>
Of Note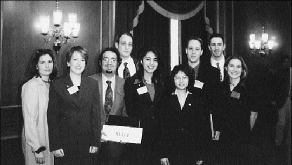 Concordia's model UN team won several medals, including "most competitive," at a recent model United Nations Assembly held at Harvard University, the biggest and most prestigious student competition of its kind. Four years ago, Concordia won the top award for best delegation.
There were 2,100 participants from 150 universities for the meet at Harvard. Teams draw for the countries they represent, and this time, Concordia drew the tiny Pacific country of Mali.
The greatest challenge for the team, however, is financing, and any sponsors who want these excellent debaters to continue to spread Concordia's name internationally should leap to their support. Despite their funding problems, members of the UN club have managed to compete recently in New York and Cairo.
Seen in the photo taken at Harvard are, left to right, Myriam Cobo, Sarah Ayton, Tarak Bach-Bapiab, John Gilchrist, Lamis Abulkhair, Angelita Bunda, Julien Lapka, Benoit Charron and head delegate Christina Meaker.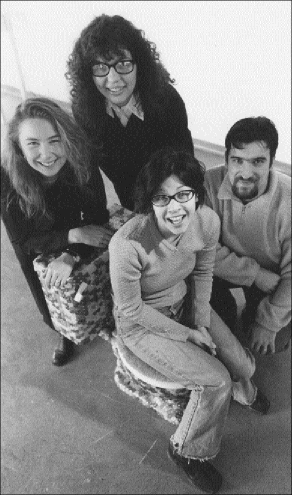 Art historians and studio artists got together recently, thanks to the creativity of their professors. The students of Art History Professor Sandra Alfoldy were given the task of curating their first exhibition -- of work by the third-year students of Ceramics Professor GisŹle Amantea. Not all students of art history see themselves as curators, Alfoldy observed, and the prospect frightened as many of her students as it thrilled others. Those who stayed the course had the satisfaction of attending their very first vernissage March 16 at the VAV Gallery. The event included a talk by Cheryl Buckley, a design historian visiting from the University of Northumbria, U.K.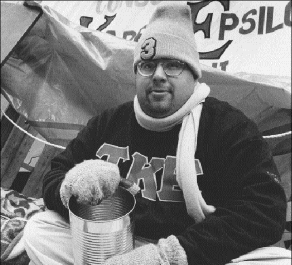 Teke in a Box
TKE brother Alberto Villasenor bundled up for the annual Teke in a Box stakeout on March 24 and 25. The fraternity raised about $4,800 for homeless youth as they camped day and night outside the Henry F. Hall Building. CHOM's morning show and Dans la Rue's Father Emmett Johns kicked off the event, and Sodexho - Marriott gave material support.
Corrections
In the last issue of CTR, in an article about a new course called Personal Finance On-line, the URL was wrong. It should be: http://www-commerce.concordia .ca/comm499f. Also, it should be noted that the production and design of the online course is done by the Centre for Instructional Technology.
In another article about the recent television documentary Crisis at Sir George, we said that producer RenŽe Morel is from Edmonston, Que. That should read Edmundston, N.B.
Gas leak briefly shuts downtown campus
On the morning of Friday, March 19, the Sir George Williams Campus was affected by a gas leak that had originated the day before in the basement of the J.W. McConnell Building (the downtown library complex).
Emergency crews sealed off the area bordered by Guy, Sherbrooke, Ste. Catherine and Bishop Streets to make repairs and safety checks.
Morning classes in the affected area were cancelled, but resumed in the Henry F. Hall Building in the afternoon. The McConnell Building reopened late in the morning, but the Bookstore and Birks Student Services Centre in the McConnell Building were closed all day, as was the tunnel to the Hall Building.
A security guard who felt sick from the fumes was examined in hospital as a precautionary measure, but soon released.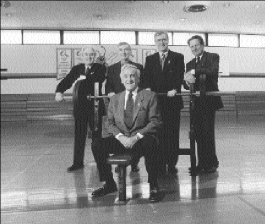 Ben Weider, president of the International Federation of Bodybuilders (IFBB), has provided a substantial gift to the Campaign for a New Millennium to serve the equipment needs of a state-of-the-art fitness centre at Concordia. He is seen here, seated, at the site of the future double-level Ben Weider Fitness and Bodybuilding Gym on the Loyola Campus with Rector Frederick Lowy, Don Taddeo, Executive Vice-Chair of the Campaign, Harry Zarins, Director of Recreation and Athletics, and Campaign Chair Ronald Corey.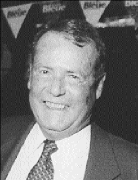 Alex Lawrie Memorial Fund to be established
A fund in memory of Alex Lawrie has been established to help undergraduate students. It has the full support of Alex's wife, Donna Lang.
Alex, an enormously popular staff member, was Senior Buyer, Purchasing, at the time of his death on February 28.
Concordia staff and faculty, friends and the companies that Alex dealt with are being approached to contribute to this fund. The goal is to raise a minimum of $10,000 to create a permanent endowment. Any ideas you might have to support this effort will be greatly appreciated, and should be forwarded to David Gobby, dbgobby @alcor.concordia.ca, as soon as possible.
Donations can be made immediately to "Concordia University" for the "Alex Lawrie Memorial Fund." All donors will receive a receipt for tax purposes. An "In Memoriam" card will be sent to Alex's family on your behalf.
Donations can be forwarded to David F. Brown, Director, Capital Gifts, Office of University Advancement, BC-316.

<! _______________________________________________________________________________>



Copyright 1999 Concordia's Thursday Report.