! THURSDAY REPORT ON-LINE> <! 01/04/99 Issue> <! Site Designede and Developed by: S. Mehrad B.Eng. For comments and problems contact: technical@mehrad.qc.ca> <! http://www.mehrad.qc.ca>



<! ________________________________________________________________________________>

Despite late start at football and English, Chicoutimi native shows academic, athletic excellence
Sylvain Girard may go pro
by Derek Cassoff
---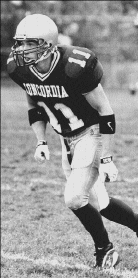 If you had told Sylvain Girard four years ago that he would one day play professional football, he would never have believed you. In fact, had you said it in English, he wouldn't have understood you, either.
Funny, then, how things can change so dramatically with a little hard work and a lot of perseverance. Girard, a wide receiver from Chicoutimi who came to Concordia with little experience in football and an even more tenuous hold on the English language, is now poised to become the next in a long line of Stingers to graduate to the professional football ranks.
Thanks to a solid career at Concordia, several pro teams have expressed an interest in acquiring the 23-year-old's services, including the Miami Dolphins and the expansion Cleveland Browns of the National Football League.
"I'd like to have a shot at the NFL, even if it's just an invitation to a training camp," said the now fluently bilingual Girard in a recent interview. "At this point, I think I have all of the tools to play pro football. I just want a chance to prove what I can do."
A fourth-year Exercise Science student, Girard was one of four Stingers invited to take part in last weekend's Canadian Football League combines, where 40 of the country's top-draft-eligible players had the chance to show off their skills to a battery of professional scouts and coaches.
The other Stinger invitees were defensive tackle Geoff Anderson, linebacker Dwayne Bromfield and running back Evan Davis Jr.; all were instrumental in helping the Stingers reach their first-ever Vanier Cup last November.
"It all has a logic to it. If you have a winning team, people will stop by to see who is causing it," said head coach Pat Sheahan. "Prior to this year, I think some of our players were under-rated. Now, their abilities are being recognized."
Of the quartet, it is Girard who many say has the best chance of turning pro. Professional scouts tend to look at physical numbers and that is where Girard has the edge. He's in top shape at 6'1" and 195 pounds, and has run a 40-yard dash in a lightning-fast 4.24 seconds, well within the prescribed time expected of professional wide receivers.
Scouts won't discount Girard's academic achievements, either. He was twice named Academic All-Canadian and twice won the Ed Meagher Trophy, awarded to the Stinger player who achieves the most in the classroom. "That shows pro teams that he'll be able to learn new systems quickly," Sheahan said.
Girard certainly had no trouble adjusting to Concordia's sophisticated offensive system. He led all Stinger receivers last season with 20 catches for 502 yards, including nine touchdown receptions.
His most memorable game occurred on October 3, his birthday, when he caught five touchdown passes in a 45-32 win over Université Laval. Not only did the performance enable Girard to win conference player-of-the-week honours, but it established a new conference record for most points scored by a player in a single game.
"It took some time to adjust to the system," said Girard, who only began playing football at age 17. "It's more than just a matter of running your patterns. [Offensive coordinator Gerry] McGrath insists that his receivers learn the game and know what they're doing on the football field.
"It's a lot of film work and being able to adjust your play depending on the other team's defensive coverage, but it's something that will help us later on. It's a big plus if we go on to play professional football." <! _______________________________________________________________________________>



Copyright 1999 Concordia's Thursday Report.