! THURSDAY REPORT ON-LINE> <! 01/04/99 Issue> <! Site Designede and Developed by: S. Mehrad B.Eng. For comments and problems contact: technical@mehrad.qc.ca> <! http://www.mehrad.qc.ca>



<! ________________________________________________________________________________>
Membership in the Party has its privileges
by Michael Dobie
---
Michael Dobie got his graduate Journalism Diploma last spring, and has been spending the year teaching English to journalism students in China under an academic agreement between Concordia and the Beijing Broadcasting Institute. This is a dispatch he sent us from Beijing.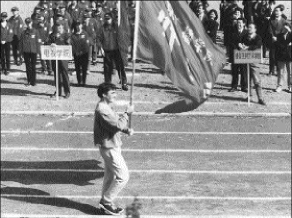 Chinese students don't wear Mao jackets any more. Neither do they wave the Little Red Book of his quotations and subject professors to criticism sessions. They also don't protest in favour of democracy.
Testing political rights has not been a high priority on campus since 1989, especially at the Beijing Broadcasting Institute, China's only institute devoted exclusively to educating journalists, editors, announcers and technicians for the broadcast media.
One student who organized a boycott of the cafeteria last year to protest a price rise lost his seat on the student union.
Instead of joining the activists striving to form the Chinese Democratic Party, many students would rather join the Communist Party. Membership isn't always desired for ideological grounds, but is seen as a step up, a way to give some juice to the career path.
"If you want to be a leader in a unit in society, you have to be a party member," says Ha shu, 22, a student of international journalism at BBI. Ha is a party member, like three others of her class of 17 due to graduate in the spring of 2000.
Because of reforms in 1995, most Chinese graduates now have to find their own jobs, and they need every advantage they can get. "If you are a party member, it's likely that you will get a better job after graduation," Ha says.
Several more of her classmates are trying to get in. The first step is to join the Communist Youth League, a sort of farm team for the Party. Bai Shi, 19, in his first year of recording engineering at BBI, says that by middle school (high school), most of the students in his class were league members.
He says membership is a help in getting into the right schools, places like BBI, where many of the students are privileged and have connections to the party through family and friends.
Both of Bai's parents are party members and were Red Guards during the Cultural Revolution, wearing Mao jackets and chanting slogans in Mao's honour in Tiananmen Square when universities were shut during the late 1960s. His mother and father both became professors after calm was restored and the universities reopened.
Gao Lu, 22, is in his third year of television and literature studies at BBI. Both his parents are party members, and Gao wants to join, too. "To get a good job, an easy job," he says, "you must be a party member."
He counts on joining in a year, but to do so, he must write monthly letters to the local party committee leader expressing "what he thinks in his heart."
Gao says these letters are shared with the committee members (teachers and other students), who judge applicants' competency to join. "Advanced" thinking, based on knowledge of party history and philosophy, must be demonstrated.
These topics are taught in political education classes held on Saturday and Wednesday afternoons, says Lily Lu, 21, who is in her second year of international journalism at BBI. Membership has its privileges. One teacher told her it would be better for her to be in the league, because "if you fail an exam, they might give you another chance."
Although cynicism and social pressure might motivate many applicants to join the party, some express purer motives. "I want to learn more; then I can serve my nation and our party better," says Duan Peng, 24, a graduate student of journalism at BBI. "I have decided that first, I must be loyal to the party; second, I should be a man of good morals; then, I should have wide knowledge."
His friend Zhao Ting-ting, 22, in her fourth year of international journalism, says that his idea is influenced by Mao Tse-tung, "a most important politician and thinker in China's history, who said that running a newspaper is a political business."
Despite increasing press freedom, the propaganda function of Chinese media is still paramount, and the student journalists at BBI indicate no inclination to challenge the status quo. Most are more interested in TV announcing rather than pushing the boundaries of press freedom in China.
Zhao is typical of this attitude. When asked about her journalistic aspirations, she replies, "I want to become rich and famous."

Photo (Above): Michael Dobie leads BBI teachers at sports day. <! _______________________________________________________________________________>



Copyright 1999 Concordia's Thursday Report.