! THURSDAY REPORT ON-LINE> <! 01/04/99 Issue> <! Site Designede and Developed by: S. Mehrad B.Eng. For comments and problems contact: technical@mehrad.qc.ca> <! http://www.mehrad.qc.ca>



<! ________________________________________________________________________________>
Yvonne Hardt explores history of modern dance
by Alison Ramsey
---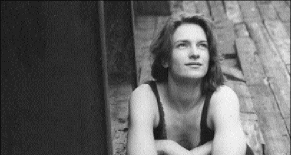 Modern dance legend Martha Graham might be shocked, and her rival Yvonne Rainer appalled, by the content of a Master's thesis working its way through Concordia.
History student Yvonne Hardt compares the two and finds their similarities striking. Yet Rainer's seemingly random, asexual hops and jumps were intended as an opposing statement to Graham's sensual, storytelling dances.
The common thread? "Both they and their critics transcend their bodies," said Hardt, who is a dancer and choreographer herself.
"No critics mentioned the fact that Graham [at the end of her long career] was in her 70s, dancing with 20-year-olds. It was a taboo -- elderly people are not supposed to be passionate lovers," she explained.
"Rainer danced naked, and while that has a sexual connotation, after five minutes it becomes normal and the nudity is not striking anymore. They both challenged how we are conditioned to seeing the body. Ways of seeing the body can be altered."
The thesis became Hardt's passion after coming to Concordia from Germany as a visiting student. Originally, she was going to study women in New France, but she discovered the lively modern dance scene in Montreal. Fascinated by the lack of information about the roots of modern dance in North America, she changed topics and applied to stay on.
Armed with a fellowship and waived foreign-student fees, she is preparing a thesis titled "Modern Dance: Gender and Jewish Identity in the United States and Quebec." It focuses on four dancers who rose to fame in the 1930s through the '50s. To find records of the dancers and their dancing (while photographs exist, only Graham is on video), Hardt is reading newspapers and magazines, culling reviews of their performances.
"We don't know much about it because most of the history was written in the McCarthy era of the 1950s, and in the 1960s," she continued. The anti-leftist politics of the day suppressed a full account. "Modern dance has socialist roots," she said. "They staged dances at Communist party meetings."
Hardt includes two dancers based in Montreal, Elsie Salomon and Ruth Sorel. As someone who is fascinated by the social influence of dance, Hardt was delighted to meet a group of older women here who had learned from Salomon.
"A whole generation of very young children went through her training, which was in schools" in the 1940s, she said. The method Salomon used works on how to make movement easy by being aware of one's body.
"People see modern dance as an art form that only happens on stage, but it is a certain training of the body. The socialist movement is very focused on the body. You often see images of the time, of socialist workers, that are almost Martha-Graham-like, with figures bending industry, tearing down the forces that subjugate the workers."
Sorel, a classically trained dancer from Russia, opened a ballet company when she immigrated to Montreal. Influenced by modern dance, she developed a particular style and founded a second company.
Hardt, who has completed the U.S. leg of her research and is embarking on the Quebec part, is trying to find out why Sorel left her homeland in the first place, and why the popular dancer later disappeared from the city. She suspects a political cause.
Hardt is a combined History and Dance major who creates dances with a social message. She is working on Amazon Obsession: Le Corps PenthesilŽe for Montreal's Fringe Festival. In it, 19th-century Amazons are situated in a sports arena, she said, "to normalize the idea of fighting women."
She explained that "in the 19th century, women could only fight over a man. In the play, a woman fights because she wants to win." <! _______________________________________________________________________________>



Copyright 1999 Concordia's Thursday Report.