! THURSDAY REPORT ON-LINE> <! 01/04/99 Issue> <! Site Designede and Developed by: S. Mehrad B.Eng. For comments and problems contact: technical@mehrad.qc.ca> <! http://www.mehrad.qc.ca>



<! ________________________________________________________________________________>
Volunteering assignment changed my thinking
The following account is by Mony Mandel, a second-year Communication Studies student:
It started off as just another class assignment, but ended up becoming a life-changing experience.
This term, I took an Exercise Science elective, Personal and Community Health, thinking it would be a simple course. When Professor George Short announced that the class would have to choose between interviewing a member of a community agency or volunteering, some students left the classroom, while others were visibly bothered. I had no idea what to expect.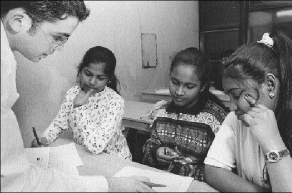 I was asked to go to the Montreal Volunteer Bureau for an interview, and a teaching position was found for me. Soon enough, I was assigned to teach English grammar to 10 East-Asian children ranging from ages 14 to 16. They all had a working knowledge of English, but they needed help with grammar and sentence structure.
The first day was utterly terrifying. I had no teaching experience, and had no idea how to relate to the students. All I had was a small booklet and a group of chi ldren who had no reason whatever to respond to me.
Walking into the classroom was an experience that left me speechless. The children were talking and laughing in a language I did not understand. I stepped forward, and, with bated breath, began a long process of earning their admiration by helping them learn.
I seriously considered not going back there the next week, but my grade depended on it. I had no choice but to deal with my fears. That night, I decided that I would not give up on these kids.
The next few weeks were just as difficult, but somewhere along the way, things got easier. I began to relate to them; I looked forward to being there and getting to know them. I could sense that they were becoming more comfortable around me, and a bond was developing between us.
Leadership qualities that I never had before began to emerge. I used to dread walking into that classroom and seeing those faces looking up at me, but now I realize that they need a role model, and I want to be there for them. I go there to help them improve their grammar, but at the same time, they help me improve myself.
Although the seven-week minimum for the assignment has passed, I can't see myself leaving these kids. They are enthusiastic about learning, and I notice improvements.
I'm sure most people feel they do not have enough time to volunteer, or that it is a hassle. I felt the same way; being a full-time student in a demanding program and working 18 hours a week does not leave much time for anything. However, putting aside three hours a week turned out to be a small sacrifice for such a rewarding experience.
Photo (Above): Mony Mandel gives three of his students, Suganyal, Melanie and Shalini, some pointers on their English. <! _______________________________________________________________________________>



Copyright 1999 Concordia's Thursday Report.