In Brief
Dr. Frederic Lowy named
President Emeritus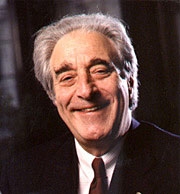 Frederick Lowy was named President Emeritus in honour of his distinguished service to Concordia University by the Board of Governors at their Sept. 15 meeting.
Dr. Lowy served as President and Vice-Chancellor of Concordia for a decade, and retired May 30.
Indian technology students here
Nine students from four Indian Institutes of Technology did internships this summer in the Faculty of Engineering and Computer Science, organized by Thiruvengadam Radhakrishnan, Rama Bhat and Balbir Sahni.
The enrolment of degree students from India has nearly tripled over the past four years to 158 in 2004-05.
The IIT has seven campuses across India.
There are 10 "IITians" (IIT students and alumni) at Concordia. This summer Dr. Bhat organized a meeting at Concordia to discuss establishing a Montreal chapter of Pan-IIT.
Pan-IIT chapters foster networking between IITians and professionals from the host countries, explained Professor Radhakrishnan, himself an IITian.
Scholarships for Lebanese students
If you are of Lebanese descent and didn't know that the Lebanese Canadian Heritage Society has been supporting Montreal students for nearly 40 years now, now's the time to get acquainted with this organization.
The Association gives out scholarships worth $700 each to students at any stage in their post-secondary education, from undergraduate to the postgraduate level. There is no cap on the number of awards handed out each year, so the number of scholarships is directly linked to the number of applicants.
Although academic performance is considered, more weight is given to financial need. Candidates must discuss their situation in a letter to the Association's Board of Trustees and submit to an interview. Pending approval by the Board, awards are generally dispensed one to two months after receipt of the application.
Best of all, there's no deadline: Applications are accepted year-round.
For more information and to request an application form, contact the LCHA at 274-3583 or e-mail lsca@bellnet.ca