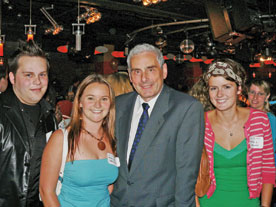 President Claude Lajeunesse intends to spend roughly half his time getting to know Concordia in depth and half his time promoting the interests of Concordia in the wider community, including the various levels of government.
"I have plans to meet with every sector of the university," he said recently. Since there are about 100 separate units, he estimates that at the rate of two visits a week, it will take him about a year.
CTR online


The CTR appears every two weeks, but daily news is always available from News@Concordia

Concordia's graduate photography program recently received $510,000 from the Roloff Beny Foundation as part of its Canadian national scholarship program.
"This endowment is one of the most significant donations made to our faculty in recent history," said Fine Arts Advancement Officer Dorothy Massimo.
More