Football Stingers tearing up the turf, have yet to lose a game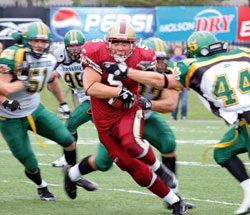 The No. 8-ranked Concordia Stingers men's football squad continues to tear up the turf like a force of nature, racking up a win-loss ratio of 4-0 in the first month of the season.
On Sept. 17, Quarterback Scott Syvret threw three touchdown passes and ran in a fourth major to help the Stingers to a 49-14 victory over the Sherbrooke Vert et Or before 1,582 fans in the pounding rain at Concordia Stadium.
Syvret completed 23 of 31 passes for 323 yards and the three touchdowns. He did not throw an interception. His favorite targets were fifth-year wideout Dan Mott, who caught six passes for passes 73 yards and his first-ever touchdown, as well as Nick Scissons and Blake Butler.
Overall the Stingers rolled up 441 yards of offence.
It was a rough day for the Sherbrooke offence, who compiled 276 yards but turned over the ball six times. Quarterback Marc-André Tougas completed eight of 17 passes for 120 yards, one touchdown and three interceptions. He also fumbled the ball twice.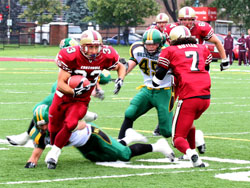 Samuel Giguere was the top receiver, with six catches for 87 yards and a touchdown. Alain Dorval carried the ball seven times for 90 yards.
On defence, Concordia had interceptions from Moe Sidibe, Junior Bishop, Jermaine Blake and Sylvester Sarfo who took it back 46 yards for a touchdown. Linebacker Patrick Donovan racked up 11 solo tackles, an assist and a forced fumble.
The following week, the Stingers delivered a solid trouncing to the Bishop's Gaiters, beating them with a score of 31-17 on that team's home turf in Lennoxville.
On Sept. 24, 2,500 Gaiters fans looked on as unstoppable Stingers wide receiver Mike Renaud led the charge, snagging six passes for 157 yards and two touchdowns, including one 26-yard strike.
Renaud's first score came on a 30-yard pass from quarterback Scott Syvret in the first quarter. Syvret completed 22 of 32 passes for 335 yards and three touchdowns in three quarters of play.
Wideout Dan Mott also benefited from Syvret's precision passing, catching nine passes for 122 yards. Mott continues to lead the country in receiving with 32 receptions this season.
The Stingers offensive line, led by Bren Buckley and Connor Smith, was at the heart of the Gaiters' problems and ensured Syvret had ample time to find his receivers.
Defensively, middle linebacker Patrick Donovan tallied 11 solos and two assists for a total of 12 tackles. He is the second leading tackler in the CIS with 39 tackles in four games.
All-star cornerback Moe Sidibe, who is projected to be a top pick in the 2006 CFL entry draft, hauled in two interceptions.
The Stingers' next game is against the Laval Rouge et Or – which is also undefeated — on Oct. 2. They return to Concordia Stadium on Oct. 15 to take on the Université de Montréal Carabins in the Shrine Bowl.