Wrestler named top athletics student
Nine varsity athletes with outstanding academics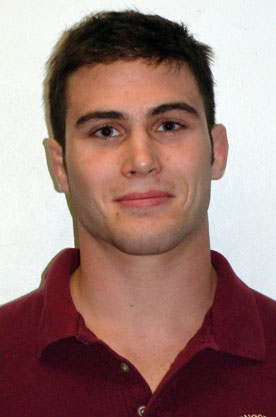 Concordia wrestler Tyler Marghetis was named one of the Canadian Interuniversity Sport (CIS) Top 8 Academic All-Canadians for the 2004-05 season.
Every year, a growing number of CIS student-athletes are recognized as academic all-Canadians, having maintained a grade point average (GPA) of 80 per cent or better over the academic year while playing on one of their university's varsity teams.
In 2004-05, more than 2,000 student athletes achieved this status. Among these, one female and one male from each CIS regional association were selected as Top 8 Academic All-Canadians.
Marghetis, along with McGill University soccer player Danielle Day, were named the top student athletes from the Quebec Student Sports Federation.
Wrestling golds
A 21-year-old native of Ottawa, Tyler Marghetis captured his second consecutive individual gold medal at the CIS wrestling championship last winter in the 76-kilogram category and went on to represent Canada at the 2005 Summer World University Games in Turkey.
In his rookie university season in 2002-03, he had already claimed a silver medal at the CIS nationals.
A pure and applied mathematics major with a minor in philosophy, Marghetis maintained a 4.07 GPA (out of 4.30) in 2004-05 to earn a place on the Dean's List and the President's Academic Award.
Each member of the CIS Top 8 receives a Tissot watch as well as a gift of $500.
Nine Stingers
In all, nine Stinger athletes were named CIS academic all-Canadians. Concordia University considers a 3.7 GPA out of 4.3 the academic all-Canadian standard.
The other eight are: Emilie Ruel, who plays women's basketball and is in a Linguistics program; women's hockey players Andrea Dolan, who studies Political Science, Meggy Hatin-Leveillée, in Psychology, and Patrice Thériault, who is in Finance; rugby player Marnie Augello, who studies Sociology; soccer players Vanessa O'Bree , in Management, and Chris Huggins, in Psychology; and wrestler Anthony Ronci, who is in a program in Industrial Engineering.