Micro-credit has some problems, fieldwork suggests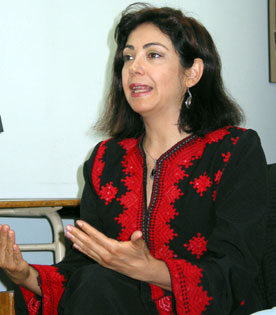 Roksana Bahramitash's recent fieldwork in rural Iran suggests that micro-credit programs may not be the most effective means to combat poverty.
Bahramitash is a research associate at the Simone de Beauvoir Institute. She has been researching globalization and women's economic role in Egypt, Turkey and Iran. Her talk on Sept. 16 was the first of the Institute's fall seminar series.
The micro-credit model is based on the Grameen Bank, which operated in Bangladesh in the 1970s. Women pool their resources, develop workable business plans and then apply for part of their collective funds as short-term loans. When the loans are repaid, the money goes to fund other projects.
Variations on this theme were extremely popular in the '70s and have recently reemerged. "The United Nations is very big on it. It's fashionable," Bahramitash said. She was cautious about the benefits.
"We have to be suspicious about how and when these projects are funded," she warned. These projects require women to become entrepreneurs, a role that may not be comfortable nor even possible for them.
"Governments tend to cut back on social services when they have a budget deficit," Bahramitash said. This was certainly the case in Iran over the last several years. With fewer health and social service resources available, women are more likely to take on those tasks themselves. This is especially true of isolated or poorer women who would be heading single-parent families, or caring for elderly relatives.
Expecting these women to manage cottage industries "is the World Bank putting the burden of poverty on the women themselves." The government can abdicate its responsibility because, "if there is poverty, it's because the women themselves failed to make a success of micro-credit."
Bahramitash's fieldwork put her in touch with a women involved in such a project in a small Iranian community on the border of Afghanistan.
As she described it, the rural economy has "fallen apart" and the major source of employment is drug and arms trafficking. The authorities can no longer maintain order and "the national organizations which should assist poor people are just not present."
Bahramitash blamed the U.S. presence in Afghanistan for the increased production and processing of opium, and described the situation as "neo-liberalism meets neo-conservatism."
Micro-credit projects are inadequate in such a dangerous and corrupt context. Even with the best of intentions, the need is too great for the resources available.
In the region Bahramitash visited, more than 200 households had been divided into about two dozen sub-groups.
Unfortunately, the demand is far greater than the resources available. Those who get funds tend to be those who are able to contribute.
"Women were waiting for three years for $300. Some of their stories were heart-breaking." Bahramitash said women were clearly frustrated by how difficult it was to get even a piece of an already inadequate pie. On the other hand, she acknowledged that by bringing them together, the program did empower women to negotiate with local authorities.
She urged the roughly 50 people who attended her talk to lobby the Canadian government to ensure that our foreign policies do not make a difficult situation worse.
This approach would be more helpful than some North American feminist initiatives that amount to "bigger sisters who go and save little [more helpless] sisters."
Some of Bahramitash's ideas on these issues are expanded in her forthcoming book Liberation from Liberalization: Gender and Globalization in South East Asia. Copies will be available when she speaks in the Samuel Bronfman Centre atrium on Oct. 13.