Chocolate 101: Homework time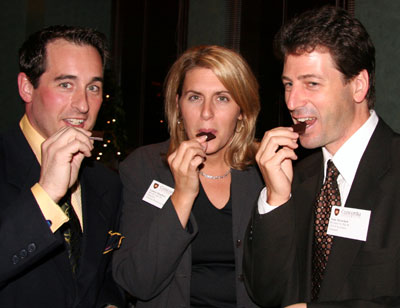 Jordan LeBel (above, left) tries a piece of African chocolate with Laura Stanbra, director of alumni relations and development, and Sean Sprackett, new president of the Concordia alumni association.
Chocolate 101, a lecture on the history and production of chocolate and how to enjoy it fully — and the sampling of fine chocolate afterward — was a hit at the Alumni Association's 22nd annual general meeting, held Sept. 22 in the Hall Building. One secret of enjoying good chocolate is to appreciate its aroma, LeBel said. This involves breathing properly while tasting the chocolate to allow the smell of the chocolate to be fully appreciated. LeBel has been teaching marketing at Concordia, but is currently teaching in the School of Hotel Administration at Cornell University.
Sprackett succeeds John Aylen, who is president of Montreal marketing communications firm Kelly + Aylen. He chaired his last CUAA board meeting on Sept. 22, just before the annual meeting. He held the position for three years.
Aylen's term included many initiatives, including the creation of new chapters such as those of Engineering and Computer Science chapter and Fine Arts. Sprackett, a chartered accountant, is a senior manager with Ernst & Young in Montreal, who specializes in corporate tax planning and the structuring of acquisitions.
He said one of his top priorities is to promote the mentorship program that provides links between alumni and students. Another is to build and diversify sources of revenue for the alumni association, including by improving the affinity programs, for example, credit cards that generate money to Concordia when one of the school's 127,000 alumni use them.