Students plan a Concordia village for Ugandan orphans
CSU will ask for 50-cent levy to support academic project in East Africa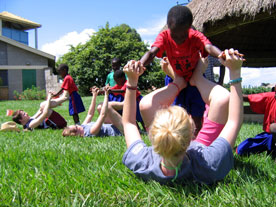 Uganda is more than 10,000 km away, but two Concordia students hope to bridge the distance with a program that would permit students to earn academic credit by volunteering in orphanages there.
Less than one year after founding the Concordia University Volunteer Abroad Program (CUVAP), Peter Schiefke and Awel Uwihanganye have led two fact-finding missions to the impoverished East African nation to set the groundwork. Last May, they and 11 other students went to Uganda for a month.
Uwihanganye is from Uganda, and became a Canadian citizen only two weeks ago. He said, "Being in Canada and seeing the potential here and knowing Uganda has the same capacity for development is very motivating. So is the knowledge that Concordia students are committed to causes such as sustainable development and HIV/AIDS awareness."
According to UNICEF, there are nearly one million AIDS orphans in Uganda. More than 100,000 Ugandan children are infected with the disease.
Schiefke and Uwihanganye, who are in their last year of political science, have forged a partnership with SOS Children's Villages. The NGO builds and administers villages around the world that house orphans who have been abandoned or can no longer live with their parents in unstable or conflict-ridden areas.
Schiefke said they were going to set up a Concordia village in Entebbe, in the southern part of Uganda.
"But once we toured the north, especially the district of Gulu, the focus completely changed. It was no question after we saw the devastation in Gulu."
For the past 19 years, northern Uganda has been embroiled in a bloody civil war between the government and Christian fundamentalist rebels who want to overthrow it. Schiefke and Uwihanganye said the fighting has subsided in recent years, and strict measures would be taken to ensure students' safety.
They have raised $200,000 through campus organizations such as the Concordia Students Union, the business students' association CASA and the Arts and Science students of ASFA, the Concordia Council for Student Life (CCSL) and other donors to build a student centre in Gulu that would sleep 30 people.
SOS Villages has donated two acres of land for the building, and the students expect to break ground in December.
Schiefke said their proposed facilities would eclipse those used in Panama and Barbados by students of McGill's development program.
"We would take it to the next level: We're not only building a student centre, it's a public library for the community, an athletics and arts centre, schools and housing for the orphans. On top of that, all facilities would be solar-powered and sustainable."
The program would see 120 Concordia students from all four faculties make the voyage every year, contributing their time and talent to schools and orphanages, and completing a project related to their discipline.
The organizers hope students will support the project when they ask them for a contribution of 50 cents per credit to help fund it. The question will be put to students in a referendum during the CSU by-elections in November. Meanwhile, other long-term funding is being solicited.
Within the next few weeks, a promotional video created by Concordia Communication Studies students, project participants and documentary filmmakers Michael-Oliver Harding and Christine Pellerin will be shown at Cinema Politica screenings and on CUTV monitors in the Hall Building.
CUVAP anticipates receiving association status from the Dean of Students, which would make it a fully fledged affiliate program of the university.