Katrina hurricane student musician helps with relief effort
Nikolai Giefer's band will tour the U.S. to raise money for others, then he'll study business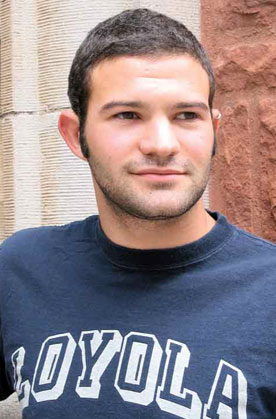 Nikolai Giefer (left) enjoyed a flurry of attention two weeks ago when his return to a third year of studying the music business at Loyola University in New Orleans was detoured to Concordia by Hurricane Katrina.
Giefer decided to accept Concordia's appeal to students displaced by the hurricane. However, it appears that Katrina will be sending Giefer back south for this semester after all.
The name Loyola is not the only thing Giefer's old and new schools have in common. He was attracted to Montreal because it has "a good music scene, the influence of French culture and lots of festivals," all elements it shares with New Orleans.
Giefer's band, Jackrabbit Slim (the name of the club where the dance contest takes place in Pulp Fiction), had been playing clubs around New Orleans.
The band members, who had met at school, were ready to launch their first CD of danceable funk/pop this fall.
Instead, the hurricane scattered Jackrabbit Slim across North America, most members returning closer to their respective homes.
Neither Giefer nor the others felt they could just leave New Orleans behind, so for the next few months they will participate in a series of benefit concerts for victims of the hurricane.
The Red Cross and Tipitina's Foundation, set up through one of their favourite venues in New Orleans, are involved in putting the tour together.
Giefer intends to combine courses in Fine Arts and the John Molson School of Business when he returns here in January.
Another student displaced by Katrina is studying at Concordia this term. She has family in the Montreal area, and is staying with relatives.