Farewell to Chris Jackson — for a while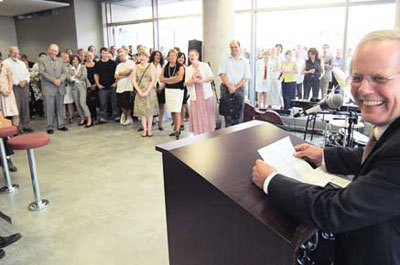 Outgoing Dean of Fine Arts Christopher Jackson (at right) was given a warm sendoff on Sept. 13 by his colleagues and friends.
The party took place on the 11th floor of the new visual arts facility on Mackay and Ste. Catherine Sts., which has a terrace with a spectacular view of the city. A surprise guest was jazz pianist Tim Jackson, Chris's brother, who entertained guests with a small combo.
The outgoing dean, who has put in a busy decade at the helm, will stay on a few months as his successor, Catherine Wild, assumes her role, and then he'll take an administrative leave. He continues his career as director of the Studio de musique ancienne de Montreal, a well-known early music ensemble.