The power of photography and the pull of perception
Martha Langford on the ideas behind Image & Imagination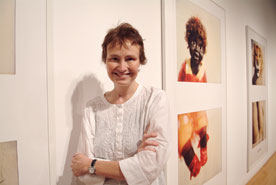 Art historian Martha Langford hardly had time to sit down during the opening night of the Mois de la Photo: Image & Imagination photography festival earlier this month.
As the artistic director of the event and the curator of many of the festival's exhibitions, she set off on a marathon and enthusiastically presided over the openings of seven shows in one evening.
She said she was delighted to see curious viewers ask artists for explanations of their work at the crowded venues. That's what Image & Imagination sets out to do.
Langford said all images, even the most realistic ones, are ultimately a combination of the imaginations of the creator and of the spectator.
"There are two ways we use the word image," she explained in an interview. "Object images are what you expect to see at a photographic exhibition, but mental images are actually what you're involved with."
Langford, who teaches Art History at Concordia, feels it is crucial that spectators become aware of the role they play, and she incorporates this notion in her teaching.
"When you look at a photograph at an exhibition, you have to ask: Why am I here? What am I thinking? What are my expectations?" she said.
"Most people do understand the power of photography. The idea is to excite them with the power of perception, enable them to articulate what they can see."
In some of the festival exhibitions, the role of perception is more evident than in others.
Windows, a retrospective of the "window works" of Canadian artist Michael Snow, is built around the idea of bringing the spectator into photographs, videos, drawings and sculptures.
Line Drawing with Synapse, 2003, a pair of ultrathin light boxes hanging from wires, shows a camera photographing itself in a mirror. Spectators will have the feeling the camera is going to take a picture of them, but they'll als o know that the object is in a different physical dimension.
Unstilled Lives is the show at Concordia's Leonard & Bina Ellen Gallery. It puts together controversial works by Australian photographer Destiny Deacon and Concordia teacher Evergon, in what a curatorial essay describes as a "fusion between the real and the imaginary."
Hallelujah, the key image of the festival (featured on the cover of the festival catalogue but not exhibited) also reflects Langford's stress on the central role the public plays in art.
The photograph, by emerging Montreal photographer Jonathan Plante, shows a huge crowd staring at the Mona Lisa at the Louvre museum in Paris, and manages to portray the variety of emotions that the enigmatic painting provokes in viewers.
Founding director of the Canadian Museum of Contemporary Photography, Langford worked for years as an independent curator. She began teaching full-time at Concordia in September 2004. She has collaborated with Montreal's Mois de la Photo since its first edition in 1989.
This year's theme resulted from her research on photography and memory, which she explored in her PhD thesis at McGill University and in her 2001 book Suspended Conversations: The Afterlife of Memory in Photographic Albums.
She is currently finishing a new book, Scissors, Paper, Stone: Expressions of Memory in Contemporary Photographic Art, which she began to research during her postdoctoral fellowship.
Image & Imagination presents works in seven galleries around Montreal, including Concordia, by more than 60 artists from Canada, Australia, France, Haiti, the United States and the United Kingdom.
Langford's book by the same name was launched at the Canadian Centre for Architecture on Sept. 23 by McGill-Queen's University Press, Le Mois de la Photo à Montréal and the Gail and Stephen A. Jarislowsky Institute for Studies in Canadian Art, at Concordia.
Martha Langford will give a guided tour of Unstilled Lives this afternoon, Sept. 29, at 4:30 p.m.
She will also discuss the works of Australian artist Tracey Moffatt at Montreal Museum of Fine Arts on Nov. 16 at 6 p.m.
For more information, please see www.moisdelaphoto.com.