Photography receives $510,000 gift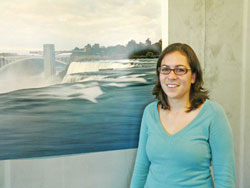 Concordia's graduate photography program recently received $510,000 from the Roloff Beny Foundation as part of its Canadian national scholarship program.
"This endowment is one of the most significant donations made to our faculty in recent history," said Fine Arts Advancement Officer Dorothy Massimo.
Established in memory of a famous Canadian painter, designer and photographer, the annual $10,000 Roloff Beny Foundation Fellowship in Photography ensures the strength of the graduate program at Concordia for a long time to come. Annual payouts from the endowment will also go towards replacing outdated equipment, and thus benefiting undergraduate photography students as well.
The Faculty of Fine Arts was contacted in September 2004 by a foundation representative who requested anonymity, Massimo said.
"The school's courtship of the foundation began small, with discussions of the potential fellowship."
Talks continued steadily throughout the fall, but escalated in early 2005 when she learned of the foundation's plans to make several large donations before dissolving.
In the end, photography programs at Concordia University, Ryerson University in Toronto, the University of British Columbia, the University of Lethbridge in Alberta, and Nova Scotia's College of Art & Design all received donations from the foundation.
In April, the foundation representative made a stop at Concordia on a tour of prospective schools throughout Canada. Professor Geneviève Cadieux and assistant professor Marisa Portolese (Studio Arts) asked nine graduate photo students to assemble an exhibition in the Bourget gallery.
Jessica Auer, the first recipient of the fellowship, was part of the group who worked tirelessly to mount the impressive show.
"We made a huge effort for this. We only had three days to prepare. We hung the prints the night before as a group," Auer said.
Following the exhibition, Massimo, Cadieux and Portolese led the representative on a visit through the new — and unfinished — visual arts facility at Mackay and Ste. Catherine Sts. One month later, the endowment and fellowship were in place.

Jessica Auer wins first Beny Photo Fellowship

For Auer, 27, this fellowship helps fuel her long and winding journey towards graduation in the fall of 2006.
"The funds from this fellowship are going to allow me to continue working on my thesis project, a survey of tourist destinations in the Americas. In the next year, I plan to photograph Machu Pichu in Peru and Iguazu Falls in Argentina, as well as various archeological sites in Mexico."
Wonders
Roloff Beny was famous in the 1950s and '60s for his spectacular photos of the world's natural and man- made wonders.
When asked if there were similarities between her work and that of Beny, Auer pointed out that "in the spirit of Roloff Beny, this is a travel fellowship. The foundation wanted to give funds to students who work outside the country."