In Brief
A note from the editor
Concordia's Thursday Report is published roughly every two weeks during the academic year.
It is distributed on the Thursday of publication to newspaper stands in Concordia's main buildings.
In addition, every department of the university should receive several copies by internal mail. If you aren't getting copies, please phone Des O'Neill, Supervisor, Mail Services, at ext. 3455 or deso@alcor.concordia.ca.
The online version of CTR is posted after publication, at http://ctr.Concordia.ca.
It includes a useful search function to retrieve information from the CTR archives.
We are pleased to announce two new staff additions. The Assistant Editor is Karen Herland (ext. 5774).
Karen has a journalism degree from Concordia ('86) and a master's in communications from McGill. She is an experienced freelance writer with a wealth of experience in community development, including five years as founding director of Stella, a project to support sex workers.
We also have a new Editorial Assistant, Allison Martens, who won the 2005 Gordon Fisher Prize, awarded to the most outstanding journalism student.
She will handle the Back Page listings and cover student affairs. She can be reached, Monday to Thursday, at ctr@alcor.concordia.ca, ext. 4579.
This year we are instituting a feature of opinion, called At Issue. We are always pleased to hear from readers, so feel free to communicate with Barbara Black, at barblak@alcor.concordia.ca.
We wish everyone a stimulating and productive academic year.
Students browse books for a buck
The annual Antiquarian Book Fair is celebrating its tenth year at Concordia by offering students bargain-basement admission.
For only $1 (regular admission is $6), students can browse through books valued from $25 to $10,000.
The books range widely not only in value butin subjects matter, including children's literature, military history, art, natural history, the history of science and cookbooks.
There are rare first editions, notably Virginia Woolf's 1929 classic, A Room of One's Own.
Adrian King-Edwards, proprietor of The Word bookstore and a member of the organizing committee of booksellers, said the gesture to students is meant as a token of gratitude for a decade of good relations. He was particularly grateful to Conference Services staff members Beatrice Francis and Marilyn Lessard.
The committee will also donate $500 from the proceeds of the Book Fair to the emergency food fund for students.
The Antiquarian Book Fair takes place Saturday, Sept. 24, from noon to 6 p.m., and Sunday, Sept. 25, from 11 a.m. to 5 p.m., in the atrium of the J.W. McConnell library complex, 1400 de Maisonneuve Blvd. W.
African film series starts on Sept. 20
The Peace and Conflict Resolution initiative will present a series of films intended to challenge stereotypes of African political and social challenges.
Eight films, most of them by African directors, will be shown from now to March. Each will be presented by an expert able to provide a context for the film.
The first in the series, on Sept. 20 in the D.B. Clarke Cinema, is In Rwanda, We Say . . .
Professor and genocide scholar Frank Chalk will be on hand to address the issues raised in the film.
Peace and Conflict Resolution will also hold three full-day interfaith symposia involving panel discussions and opportunities for informal exchange.
For more information, consult the Back Page listings or go to peace.Concordia.ca.
New online courses from eConcordia
Online courses offer students the flexibility of studying anywhere, provided they have an Internet connection.
One of eConcordia's new courses this year is Fundamentals of Object-Oriented Programming (COMP 218), an introductory course for students who want to learn the basics of object-oriented programming. Students are not required to have any prior programming experience.
Biomedical Ethics (PHIL 235) is another interesting course. It examines some of the central problems in biomedical ethics, such as privatizing Canada's health system, doctor-patient relationship models, confidentiality, euthanasia, abortion, and more.
These are just a few of eConcordia's growing list of courses. For more information about courses, or the eConcordia Corporate Development program, visit www.econcordia.com.
Engineers on sustainable development
Ordre des ingénieurs presents third annual conference
"Engineering: A Profession, A Passion," presented by the Ordre des ingénieurs du Québec (OIQ) and the Faculty of Engineering and Computer Science will take place Sept. 28-29 in Room H-110 of the Hall Building, starting at 10:30 a.m. both days.
This is the third year for this presentation to students, intended to inform them about the core values of an engineer: competence, ethical behavior, responsibility, and societal contributions.
This year, there will also be a panel discussion on sustainable development.
How should practicing engineers balance economic growth with sound environmental stewardship?
Several leading engineering managers and recent graduates have been invited to discuss their careers and other topics relevant to the profession.
Downtown "Art Hustle" to sell student work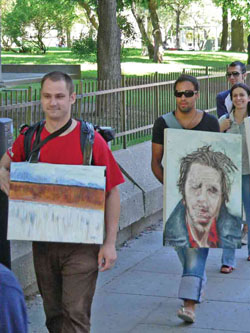 Fourth-year art student Zane Turner (to the right, centre) leads other Fine Art students James Bouthillier, Khadija Chekh Baker, Erin Muskett, Ricardo Regules, Stephania Gambaroff and helper Lucie Durand in some midday "art hustling" in downtown Montreal on July 28.
Their jaunt, which began at the McGill gates and ended at Concordia's Visual Arts Building on René-Lévesque Blvd., is a reaction to the difficulty artists face trying to show their work professionally.
"In the future I'd like to continue doing these, but first I would like to touch base with a lot of other artists and get them to come out," said founding member Turner. By going directly to the street, Turner feels he and participating artists have a better chance at getting recognized.