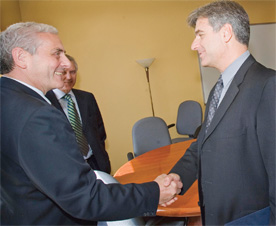 President Claude Lajeunesse will be installed in an afternoon ceremony on Oct. 21 in the lovely chapel of the Grey Nuns building.
It will be the climax of a two-day celebration that begins with a dinner speech on Oct. 20 by Donald Johnston, the Trudeau-era cabinet minister who is currently secretary-general of the Organization for Economic Cooperation and Development, based in Brussels.
CTR online


The CTR appears every two weeks, but daily news is always available from News@Concordia

Ordinary investors read the financial pages with alarm, and business students are looking to their professors for guidance. Roughly 55,000 Quebecers sit on boards, from business enterprises to unions, hospitals, school boards and the government itself, and many of them have no previous experience to help them.
Concordia's John Molson School of Business and HEC, the business school associated with the Université de Montréal, have responded by establishing a school devoted to "best practices" at the senior management level.
More
Departments
Next issue:
September 29, 2005