Paddling architect strikes gold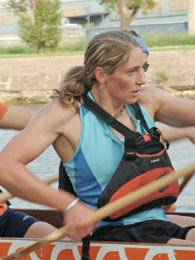 In our last issue, July 28, we told you about Kirsten Sutherland, the architect in Facilities Management who is a member of Canada's national dragon boat team.
Kirsten and the team took part in the 7th IDBF World Dragon Boat Racing Championships Aug. 3 to 7 in Berlin, Germany, and won three gold medals.
The Canadian Premier Women swept the gold medals in the 1000 metre, 500 metre and 200 metre races.
"The Russian and the British women were our toughest competitors," she told CTR. Canada won the most medals overall at the meet, followed by Russia, China, Germany and the U.S.A.