Stingers football team 2-0 after home opener
4,200 enjoy 23-11 Homecoming Cup against Bishop's Gaiters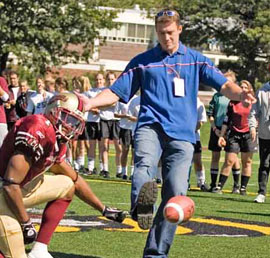 Thunder sticks added a little ruckus and color to Concordia's west-end stadium on Sept. 10 as 4,200 fans enjoyed the second game of the varsity football season.
Half back and returner Sammy Okpro was named Quebec University Football league special teams player of the week for his role in defeating the Bishop's Gaiters 23-11. Okpro made seven solo tackles at key times in the game and held the gaiters to 215 yards. Bishop's posed 219 passing yards and minus four yards rushing.
Other key contributors were linebacker Pat Donovan, with 8.5 tackles and an interception, and cornerback Mo Sidibe with six solo tackles.
The opening kickoff was courtesy of the Alouettes' Sylvain Girard (BSc 99), a Stingers alumnus. Now starting his seventh season as wide receiver with the Als, Girard graciously signed mini-footballs for the crowd for an hour before the kickoff.
It was Homecoming, the home opener and we had a bobblehead giveaway," said Catherine Grace, who is Coordinator of Sports Information and Promotions. "Add to that a beautiful day, and the turnout was just what we'd want to see."
The Stingers are now 2-0 for the season. Their first victory was against the McGill Redmen on Sept. 1.
The next game is Sept. 17 against the Université de Sherbrooke Vert et Or. Since it will be the birthday of Stingers mascot Buzz the Bee, there will be activities for the family, including free ice cream.
Remaining home games will be the Shrine Bowl versus the Montréal Carabins on Oct. 15, and versus the McGill Redmen on Oct. 29.
Season tickets are still available: adults, $30, students, $21, Concordia students and seniors 60+, $12. Children 12 and under are admitted free to all Stingers events.
The package includes tickets to all four home Stingers games at a 25 per cent discount, a Stingers mini radio or a stadium seat cushion, a chance to win a prize on fan appreciation day, the last home game of the season on Oct. 29 against McGill, and first rights to purchase playoff tickets.
Stay in touch with the Stingers by going to the Athletics website, http://web2.concordia.ca/Rec_Ath/news/.