R4 responds to waste realities at Concordia
Projects proliferate, from free dishes to recycling and appliance repair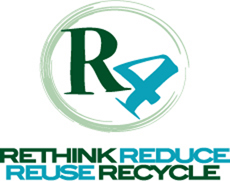 Every year, Montrealers throw out enough garbage to fill 2,041 Olympic-sized pools. The city of Montreal generates about 2,740 tonnes of garbage each day.
In 2004, Concordia University sent over 746 tonnes of waste to the Lachenais landfill in Terrebonne, northeast of Montreal. That would fill about 50 standard garbage trucks.
Our waste output is increasing at an average rate of 9 per cent per year. Costs are rising, too. Concordia's waste disposal costs are rising 24 per cent per year — more than $63,000 in 2003-04.
Much of what we send to landfill could be recycled. An R4 (rethink, reduce, reuse, recycle) Collection Depot was set up at the Concordia Co-op Bookstore in the Hall Building at the Mackay St. entrance. This is where you can put unwanted household and office items, such as furniture and old supplies, for anyone who wants them.
The One-Sided Paper Project collects one-sided paper to make notebooks and notepads. Collection points are the Language computer room (H-449), the Copy Centre (LB-119 and LB-115), the Chaplaincy (Annex Z, 2090 Mackay), the Mail Room (H-113), Sustainable Concordia Project (Annex PR, 2100 Mackay, 101), Political Science department (Annex D, 2140 Bishop, 301-12), CSU (H-637, SC115), R4 office (H-462-5), Geography department (LB-641), and the Concordia Bookstore (LB 018 and HA 165).
Appliances
If you have electrical appliances that you would like to get rid of, the Institute of Electrical & Electronics Engineers (H-716) will be happy to take them. They will reuse parts or try to fix them.
Free Reusable Dishes project provides students with plates made of unbreakable melamine for events such as conferences, meetings and seminars. This eliminates the unnecessary use of disposal plates made of products such as paper and styrofoam.
The blue recycling bins with rectangular slots are for unsoiled paper and cardboard; the ones with circle slots are for unsoiled glass, metal and plastic (except styrofoam).
To recycle computers, printers or fax machines, fax a pick-up request to 848-4000.
Used batteries are collected at the Concordia Bookstore, the Concordia Co-op Bookstore, the R4 office, and the CSU. To drop off used ink cartridges, go to the Concordia Computer store (H-224), Concordia Bookstore, R4 Office or CSU.
Old CD-ROMS can be brought to the R4 office. When they'recycled, the CD-ROMS are shredded and the data is destroyed.
Old cell phones can be brought to the CSU and to the R4 office.
R4 (rethink, reduce, reuse, recycle) was created as part of the Sustainable Concordia Project with the support of the office of the Vice-President, Services, and the Concordia Student Union in the summer of 2004.
Watch for more R4 projects this year in the pages of CTR.