CSU's Mohamed Shuriye has a year to enact his agenda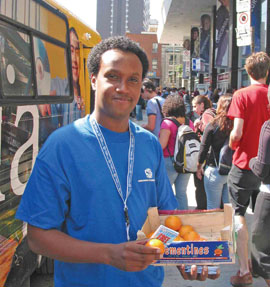 CSU president Mohamed Shuriye knows how quickly a year can pass. Now entering his third year at the Liberal Arts College, the 21-year-old says that to make positive change in such a short time, student involvement is crucial.
"To be able to leave some sort of legacy, you have to inspire people to carry on the work after you're gone," he said. "The more people I can get involved now, the more ideas we have out there. Hopefully, they will inspire others to carry out their vision for this school."
Straight-shooting yet amiable, Shuriye started his political career at Concordia as last year's VP finance at ASFA while juggling full-time studies and a position as a Residence Assistant in the dormitories at the Loyola campus.
This year, to fulfill his 40-hour-per-week commitment as CSU president, he plans to trim his course load down to a maximum of three classes per semester.
"It will slow down my degree, but it's worth it," he said. He's been working 50 to 60 hours to get a head start on the year to come. As student president, he sits on the Board of Governors, the university's highest authority.
An ethnic Somali born in Kenya, Shuriye moved with his family to Toronto at age five.
Now he is pursuing an honours degree in political science, majoring in Western society and culture. The Liberal Arts College was his first choice of schools.
"What attracted me to Concordia is the political activism on campus, the diversity, and the level of debate and engagement on a variety of issues," he said.
He hopes to harness some of that activist spirit to resist proposed tuition increases as advocated by the Quebec arm of the Young Liberals of Canada.
He doesn't think the Young Liberals speak for most young people.
"They are showing bad judgment and [demonstrating] that they are easily influenced by their colleagues at the provincial level."
Cheap education may threaten the quality of postsecondary education, he admitted, but he advocates working with the federal and provincial governments to increase university revenues. In any case, he doesn't think the freeze will be lifted this year.
Another priority is the redevelopment of the seventh floor of the Hall Building, which will soon house new CSU offices and provide more space for student clubs. Also in the works is an updated, more traditional prayer space for Muslim students there.
Shuriye and his seven-member executive, who all have significant experience in Concordia's political arena, want to develop a for-credit volunteer program that would give students the opportunity to work in Uganda.
They plan to lobby the Société de Transport du Montréal for reduced-rate bus passes for students over 25 years of age, and expand the CSU's bursary program.
The CSU has planned Canada's largest orientation, including a free concert series that continues today from 5 p.m. onwards and features a bevy of bands such as Nappy Roots and Moka Only.
To achieve all this, the CSU must work within a $1.4-million budget collected from student fees. From this budget, Shuriye will be paid $19,750 for his year in office.
He promises to exercise prudence, and points to the budget surpluses posted by the two Evolution administrations before him as evidence that the CSU can improve student life without breaking the bank.
As part of his commitment to political and financial transparency, he welcomes any queries students may have about how their fees are being spent.
"As members of the CSU, they are entitled to see our books for themselves, and they're more than welcome to do so."