Dean of Students Keith Pruden knows his history
He just wrote a master's thesis on the 1969 Sir George Williams University Computer Riot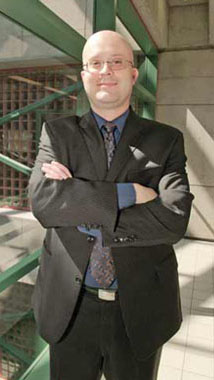 Keith Pruden has prepared well for his new job as Dean of Students.
First, he worked for two and a half years as Student Affairs Coordinator under former Dean of Students Donald Boisvert during a period when tensions between the university and the Concordia Student Union ran high.
Second, he started his life at Concordia in 1995 as varsity women's basketball coach, and continues in that role. An athletic coach is mentor, father figure, negotiator and problem-fixer for his team.
Third, he just earned his master's degree in history, writing his thesis on the role of the Sir George Williams University administration in the Computer Riot of 1969.
Pruden wasn't fazed by former CSU President Rob Green' and his executive, who made escalating demands on the goodwill of Concordia's administrators, but he agrees with outgoing President Frederick Lowy, who told CTR (June 2) that "We did not take a sufficiently strong stand at the time."
Since then, Boisvert has gone back to teaching in the Department of Religion. Former history professor Charles Bertrand, whose administrative skills were called on for an interregnum as Acting Dean of Students, has returned to retirement. As Pruden noted, that makes three deans in two years.
Fortunately for him, the large and demanding student services sector has been restructured. The load of managing Counselling and Development, Health Service and Support Servicess, has been taken off the shoulders of the Dean of Students, and Pruden will be free to concentrate on student affairs.
His role is to provide support and resources for student administrators, but only when asked, because the CSU is quite independent of the university, legally and administratively. Student fees, are collected by the university along with tuition and administrative fees, and remitted to the student associations.
Coaching helps
"I can provide the institutional memory, organizational assistance with events, show them how to navigate the university bureaucracy, how to run a meeting," Pruden explained. He knows he's not one of their peers, but he can relate to the students on a personal level. "That's where coaching has helped."
As Dean of Students, Pruden chairs the Concordia Council for Student Life, a decision-making body representing students, faculty and staff.
Budget pressure
The CCSL meets once a month, and sets the fees for student services. This is done on a three-year cycle, and when the issue comes up this year Pruden expects some budget pressure, because enrolment has not kept pace with expectations.
David Baker and Mary Burns provide front-line support in his office, and Pruden says he is complemented by Louise Lussier, Director of Student Life Relations. The office is a bit shorthanded at the moment, as longtime assistant Jane Hackett has moved over to Student Services, led by Roger Côté.
Pruden was a graduate student at the University of Winnipeg when he was hired as Stingers women's basketball coach in 1995.
He chose the Sir George Computer Riot as the subject of his history thesis before coming to Concordia.
To summarize the Computer Riot, on Feb. 10, 1969, a fire broke out on the ninth floor of the Hall Building. It was the culmination of months of controversy and frustration.
Students from the Caribbean and their supporters had charged that they had suffered from unfair marking.
In the aftermath of the riot, which made international headlines, 97 were arrested and in some cases, jailed.
Pruden concentrated in his study on the behaviour of the university administration, who were blindsided by the issue.
"There was a good deal of miscommunication and an unfortunate series of coincidences," he said. The student population had become more multiracial, their attitudes had changed, and the administrators were simply unprepared.
It's unlikely an issue would fester like that now, because there are better ways to resolve such conflicts.
Pruden looks forward to the coming year, and he has plans.
"Given the reorganization, we're trying to redefine the function of the Dean of Students. It's always been a rather reactive office. I'd like to see us get involved in helping other sectors with students and expanding our liaison role."