English students expand their literary horizons in Russia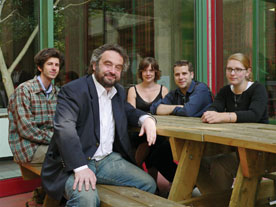 Four English students spent part of their summer visiting St. Petersburg with their professor, Mikhail Iossel. They went to the Summer Literary Seminars, which Iossel started in 1998. The Russian-born Iossel joined Concordia's English Department last year.
The four were part of a group of the 112 students and 25 faculty, mostly American. They were graduate students Fiona Foster, Malcolm Sutton, and John Goldbach, and undergrad Jessica Perreault.
They were in the northern city at the peak of the so-called White Nights, from June 12 to July 8, when dusk meets dawn.
Goldbach, who is finishing his master's in creative writing, admitted the constant light took some getting used to: "The city is alive almost all day long. It's a strange but wonderful city."
Foster, who has Iossel as her master's thesis reader, said he talked about his experiences in St. Petersburg, which was Leningrad when he was born there in 1955.
"I've always wanted to go to Russia," Foster said. "I'm interested in the aesthetics and culture of the north. I'd like to go back and see more of the country."
Seminar participants signed up for two-week sessions of morning and afternoon workshops in fiction, poetry, creative non-fiction and playwriting.
There were evening readings by authors from the U.S., Kenya and contemporary Russian writers. Students were encouraged to come with works of their own for review and editing in the seminars.
Sutton opted for two fiction sessions. "I brought two stories with me," she said. "The experience energized my writing. I was impressed by the range of talent."
Dostoyevsky Tour
One of the highlights was the Dostoyevsky Tour, which takes participants along the Raskol-nikov trail (the protagonist in Fyodor Dostoyevsky's Crime and Punishment) and into the author's own neighbourhood.
"That really brought home the feel of the novel for me," said Perreault. "With statues of some of Russia's most famous authors around, writers like Pushkin, Gogol and Dostoyevsky, you can't help but be reminded of its rich literary history."
When Peter the Great decided to bring a little European panache to dour Russia by founding St. Petersburg in 1703 on a bog near the Gulf of Finland (and "on the bones of millions," as Professor Iossel writes), he wanted it to be Russia's window to the West.
It's doubtful he could have anticipated that it would produce some of the world's greatest novelists and poets.
Russia's literary tradition lives on through its new generation of writers and a host of North American writers who have lived the St. Petersburg experience, if only for a short time. in a city of long summer shadows and classic history.