Celebrating a self-made artist's joyous legacy
Loren Lerner is curator of Sam Borenstein retrospective at the Montreal Museum of Fine Arts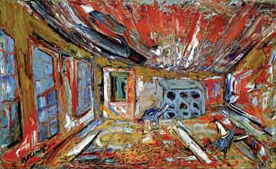 Art historian Loren Lerner is the curator of a show at the Montreal Museum of Fine Arts devoted to the work of the late Sam Borenstein, whose exuberant modernist paintings fill three rooms of the museum.
In 1966, three years before he died, Borenstein was the subject of a retrospective exhibit at the new Art Gallery of Sir George Williams University. There couldn't have been a more appropriate choice to launch an art gallery at a famously bootstraps institution, as Sir George was then, because Borenstein was a gloriously self-made artist.
The youngest of 15 children, he was born in 1908 into an Eastern Europe racked by pogroms and a world war. He came to Canada when he was 13, and had only a few months of schooling before he went to work in the garment trade in Ottawa and Montreal.
The many Concordia art students who now visit galleries and studios in the Belgo Building on Ste. Catherine St. near St. Lawrence Blvd. might be interested to know that Borenstein worked there for years as a cutter.
However, he was also educating himself at the Fraser-Hickson Library and the Montreal Association of Art, as the MMFA is now called.
Borenstein learned from the paintings of Manet, Van Gogh, Cézanne and Chagall, particularly their extravagantly thick brushstrokes and their exuberant use of colour. He would go out and paint the sleeping city after his factory work was done.
He also painted distinctive portraits of his family and friends, and landscapes. As Lerner told a group of visitors to the gallery recently, Borenstein could paint the same scene in the Laurentians over many years and make each rendering as fresh as the next.
Sophisticated artist
Though he had little formal training, Borenstein soon became a sophisticated artist, part of the flourishing community of progressive Montreal painters, poets and musicians. While his style verges on the abstract, he remains a figurative painter, maintaining what Lerner called "a magnificent tension" between the two approaches.
Given Borenstein's grim early life, the joyousness of his work is striking. Lerner pointed out to her audience one of the last paintings he did just before he died, called Green Mountain. It is almost entirely abstract, a great sweep of thick green paint with more thick blue and white strokes of sky behind it. Struggling up the mountainside is a tiny artist in a red smock and a black beret, his brush and palette in his hand.
The acclaimed animated film The Colours of My Father: A Portrait of Sam Borenstein is part of the show. It was made in 1991 by the National Film Board's Joyce Borenstein, with whom Lerner closely collaborated.
Lerner, who is chair of Concordia's Art History Department, called this show "a real joy and a challenge." Now she is turning to her next project, an exhibit entitled Picturing Her—Images of Girlhood, scheduled to open in November at Montreal's McCord Museum.
Sam Borenstein continues at the Montreal Museum of Fine Arts until Sept. 18. Admission is free.