Solar house goes to Washington
Take a guided tour tomorrow of our entry, Northern Light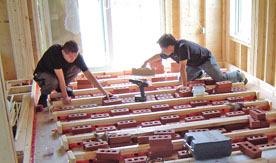 Northern Light, the solar-powered home built by the Canadian Solar Decathlon Team, will throw open its doors tomorrow at 10:30 a.m.
You will be able to see the prototype before it goes to Washington, D.C., on Sept. 29. A solar village will be erected in the National Mall of the U.S. capital and opened to the public in mid-October.
Northern Light is the only Canadian entry among 18 teams from around the world. The team is made up of students and teachers from Concordia and the Université de Montréal. Their chief faculty advisor from Concordia is engineering professor Andreas Athienitis.
Each team has to design, build and operate a small house powered solely by energy from the sun. That includes all the appliances, a home-based business and the power for an electric car. This model took two years to design.
The challenge is to create a house adaptable to extreme seasonal temperatures, from minus-35 degrees Celsius in the winter to plus-35 in the summer.
The solar house has been set up on the grassy space southwest of the athletic field on the Loyola campus.
Through the open house tomorrow, the organizers want to raise awareness and attract potential sponsorship.
The house will be rebuilt near Hingston Hall as a research and teaching resource once the competition is over. It demonstrates the team's commitment to solar power, despite our climate.
You can read more on the project at www.canadiansolar.org and www.eere.energy.gov/solar_decathlon/