Execs work on MBAs in Paris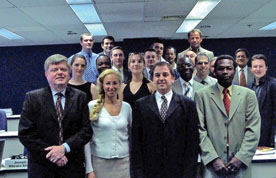 The students in Concordia's Executive MBA Program (Paris Option) are working just as furiously as their counterparts here in Montreal. They spend many weekends in a group pressure cooker, and many evenings studying.
They attend classes two weekends a month and participated in a three-week study residency in Montreal in August. Their classes are held on Fridays from 1 to 7 p.m., and Saturdays from 8:30 a.m. to 7 p.m.
They started their classes last April and will graduate in July 2006, completing their MBAs in 15 months.
The Executive MBA participants, like their Montreal counterparts, typically devote between 20 and 30 hours a week to their studies over and above class time.
The classes are held at the Institut Français de Gestion (IFG), France's leading management development organization, on the Quai de Grenelle in the 8th arrondissement, just around the corner from the Eiffel Tower.
There are 18 students in the Class of 2006, and their backgrounds vary widely.
For example, Stéphanie Coutu, a project manager at Oracle, is a Montrealer who has worked in Paris for the past eight years.
Joseph Ndzana Alima is an entrepreneur who wants to set up a home and office furniture assembly company with the possibility of international growth.
Increasing demand
Lucille Hreha, marketing coordinator for the EMBA program, said it addresses an increasing demand for management training for executives with high potential who aspire to international management positions.
"The EMBA concept is relatively new in Europe, but there is strong interest in North American MBAs," she said.
"These students want to study business in English at a North American university, and they want insight into the proactive nature and competitiveness of North American managers.
"They chose Concordia University because of the international reputation of the John Molson School of Business. The JMSB is accredited and its EMBA program has an international reputation, as evidenced by repeated success in the Financial Times of London's surveys of the top 75 EMBA programs worldwide.
"The reputation of the JMSB, in addition to the school's location in the bilingual city of Montreal, makes it an excellent fit."