Installation of President is set for Friday, October 21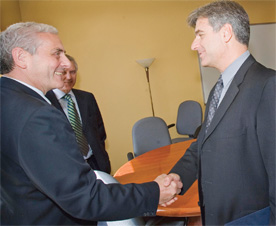 President Claude Lajeunesse will be installed in an afternoon ceremony on Oct. 21 in the lovely chapel of the Grey Nuns building.
It will be the climax of a two-day celebration that begins with a dinner speech on Oct. 20 by Donald Johnston, the Trudeau-era cabinet minister who is currently secretary-general of the Organization for Economic Co-operation and Development, based in Brussels.
The following day will see a symposium on the internationalization of education, and it starts with a breakfast speech by Margaret MacMillan, author of Paris 1919: Four Months That Changed the World.
MacMillan is a history professor and provost of Trinity College, University of Toronto. Her book describes the characters and events of the peace conference that ended World War I and set the stage for subsequent political alliances and conflicts. It won the Governor-General's Award for Non-Fiction in 2003.
Fall events calendar filling up
The new EVComplex on Ste. Catherine St. is getting rave reviews from the public and the media, and it's already bustling with activity.
Creating Space for Art is a symposium scheduled for Oct. 14 to 16 that will launch the visual arts building, and the new building of McGill's Faculty of Music.
The Canadian Association of Fine Arts Deans has chosen to link their annual meeting with this event. The keynote speaker will be Sir Ken Robinson, whose motivational speeches in the United Kingdom sparked a revolution in arts education.
The Drummond Building on the Loyola Campus has been completely renovated in time for two significant anniversaries: the 40th birthday of Canada's first communications program, and the 30th anniversary of one of the country's premiere journalism schools.
Partying takes place next weekend, and there ought to be a full house for the kickoff: the Reader's Digest Lecture on Sept. 23 at 7 p.m. in the Science Complex by Michael Ignatieff, Harvard professor, BBC television host, award-winning author and touted candidate for next federal Liberal leader.
The Department of Sociology and Anthropology is also celebrating its 40th anniversary this fall.
Booklovers will be interested to know that two of the visiting authors in the Writers Read at Concordia series have just made the shortlist for the Man Booker Prize. Irish playwright and novelist Sebastian Barry (A Long, Long Way) is coming on Sept. 23 in the DeSève Cinema, and Julian Barnes (Arthur and George) is coming Oct. 27.
There are many other dates to circle on your calendar: the 40th anniversary of the Department of Sociology and Anthropology, a conference on new music, a round table on religious art sponsored by UNESCO, the Peace and Conflict Resolution film and lecture series and the return of The Defiant Imagination lectures by artists.
For specific information about these and other events, please consult the Back Page, the university webpage, and the departments involved.