New lease on life for artists
Studio Arts moves into Mackay complex
New moves:
Tenants move into complex
There's a feeling of excitement in the air as final touches are being put on Studio Arts' spacious facilities in the new Integrated Engineering, Computer Science and Visual Arts Complex.
Workmen can still be seen hustling through some hallways, and a few rough edges still need touching up, but the space, full of areas with daylight flooding in through walls of windows, is definitely taking shape as staff set up equipment and other facilities as the countdown moves closer to the start of classes.
University people have started to take over parts of the well-equipped space as the builders release them for use, close to the tightly scheduled timetable..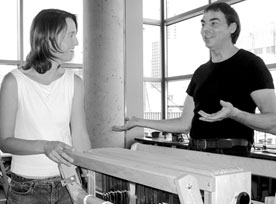 Chances are when students arrive for the start of fall classes, they'll be understanding about any small work that still needs to be done, said Bill Vorn, interim chair of Studio Arts. He was visiting some of the new studios and work areas, many of which offer imposing views of the downtown core.
With the new building's opening, Studio Arts, the largest departmen in the largest fine arts faculty in Canada, has begun a divided life. Fibres, Print Media and Photography are moving into the new space with expanded facilities, tailored by the architects to the requirements of each program.
Magnetic walls
For example, Photography has specially designed lighting and magnetic walls for mounting photos. Darkroom space is plentiful now, allowing more students to be able to take popular introductory courses, including students from outside the Department of Studio Arts, and Fibres has rooms with excellent ventilation for processes involving such materials as dyes.
Staying at the Visual Arts building, where they will have extra space, are Ceramics, and Painting and Drawing.
François Morelli, new co-ordinator of Painting and Drawing, said the refit of the VA building is "a timely opportunity to address the longstanding needs of one of Studio Arts' most densely populated concentrations."
Morelli, an associate professor of Studio Arts, said, "As visual artists, we are excited by the prospect of developing existing real estate, an activity we have excelled at for centuries."
(Some courses for the Studio Arts major and sculpture will also stay at the VA building. Art History is moving to the new building, while Art Therapy is staying at the VA Building.)
Cyberarts
Also in the new building is the freshly launched Intermedia /Cyberarts program, known as IMCA.
Its facilities include a "hybrid lab," a type of workshop equipped with computers and electronics equipment, editing suites for video and sound, a multimedia space and a special video shooting space with round corners to give the illusion of infinity.
IMCA offers wide-ranging studies that combine art and technology. The program includes key elements of the former Interdisciplinary Studies and Electronic Art, as well as video studies.
At first, IMCA will only offer an undergraduate program, but planning is underway to launch a master's program, called an MFA in Art and Technology, which could start as soon as the fall of 2006.
Robotics
Vorn, a robotics art specialist, became interim chair of Studio Arts in June after a search committee failed to find an ideal candidate who wanted the post.
"Simply keeping a department this size together and running smoothly is the major part of the job," said Vorn's predecessor, David Elliott, who has taken a one-year sabbatical to paint and write.
Aside from the move to the new building and refitting the VA building, one of Elliott's major initiatives was the creation of IMCA, which he predicted will be one of the best new-media programs in the country.
Vorn, also known as Yves Bilodeau, is travelling to Peru for an electronic arts festival in late August to exhibit one of his interactive machines that acts hysterically when there is activity nearby.
Some of his machines will be displayed at the official opening of the new building on Oct. 14, after Vorn presents his work at an arts festival in France in September.
A machine display with large arms that can rotate endlessly is part of the Old Port Science Centre's ongoing exhibition, which continues until March.