Esmail anticipates creative synergy in new complex
New moves:
Tenants move into complex
Dean Nabil Esmail is already installed in his office on the second floor of the new complex, but he doesn't like the colour painted on the floor. "The architects insisted on painting our floor orange over our objections," he complained.
The colour scheme for the floors starts with brown on the main floor and goes through the palette to blue on 16th floor.
"It's supposed to be from the earth to the sky, but who's going to look at all the floors at the same time? We are engineers. We are practical."
That objection aside, and the fact that information services to applicants were slowed, he is pleased. "It's the first time in the history of Concordia that engineering has been integrated," he said enthusiastically.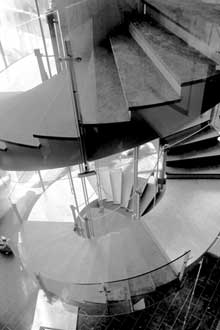 When Esmail arrived at Concordia, he was surprised how passively his colleagues accepted the fact that components of the Faculty were scattered over many locations, some of them rented.
"That, for me, was an issue. In my own research, I got some of my best ideas when I talked to another engineer from a different sphere. Academic synergy is extremely important."
He was frankly pleased that the engineers' choice of architects prevailed. The other finalist in the competition had designed the much-praised new home of the École des Hautes Études Commercial, and conceived a central atrium in the form of an inverted cone.
Esmail and the engineers preferred a more corporate-looking design. "The outside architects on the panel weighed in with the artists, but we won," he said triumphantly.
However, the winning architects also included several atriums in the design to encourage interaction among the users of the building.
Esmail said he was amused by the way the 38 staff members in the newly integrated Academic Information Technology Services chose to organize their cubicles space on the seventh floor.
"They divided themselves into two groups on either side of one of the atriums, the noisy group and the quiet group."
Esmail had high praise for the task force that masterminded the move.
"People with high skills came from all parts of the organization to do this. I was amazed."