Convocation for 1,662 grads today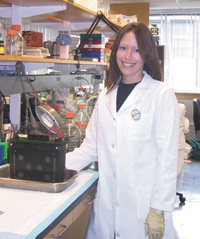 Two convocation ceremonies will be held today at Place des Arts to give diplomas to 1,662 students.
The Governor-General's Gold Medal, given to the outstanding graduate student, will be presented to Stephanie Fulton, a brilliant neuroscientist.
CTR readers will remember her from several feature articles. The first was in January 2000, when she had an article published in the highly respected journal Science. It described the work she did for her master's thesis in experimental psychology on leptin, a recently discovered hormone that helps the body strike a balance between obesity and emaciation.
More recently, last September, we told you about her "Great Montrealer" award, given by a local non-profit group for her doctoral thesis on the functional organization of brain reward circuitry.
Her research was supervised by Peter Shizgal, one of a cluster of top-notch neurobiologists who study the brain mechanisms responsible for motivation and learning. They are all members of the Centre for Studies in Behavioural Neurobiology, based in the Psychology Department.
Fulton is now a postdoctoral fellow at Harvard University, but she will return to Montreal to give the valedictory and receive her medal at the morning convocation ceremony.
The valedictorian for the afternoon ceremony is one-time soccer star Frank Pons.
Four honorary doctorates will be presented at convocation, one at the morning ceremony, and three in the afternoon.
To see who they are, please see Honorary doctorates go to four.
We reached Stephanie Fulton in Boston just after U.S. Thanksgiving.
"I couldn't resist celebrating a second time, in part because I love the turkey dinner, but also because I have much to be thankful for.
"My years at Concordia (10!) left a wonderful impression on me. In hindsight, I realize that the liberal and stimulating atmosphere at Concordia played a large role in enriching my views. This environment should not be taken for granted.
"For the past year and half I have been working as a postdoctoral fellow in an endocrinology lab of Harvard Medical School. A postdoctoral position provides the opportunity to continue training in a particular field. One can broaden their technical expertise and overall research experience.
"The research I am doing now is similar in some ways to what I was studying as a graduate student at Concordia. My focus is still on brain pathways that contribute to reward and motivation.
"Previously, I was characterizing a population of reward-relevant neurons that respond to changes in body weight and the fat hormone leptin by looking at behavioural responses for rewarding electrical brain stimulation.
"Now I am taking a much more molecular approach to examining the influence of leptin on brain reward systems. Specifically, I am examining how leptin alters the signaling mechanisms of reward-relevant neurons and how this translates into changes in gene transcription and expression.
"In a nutshell, my graduate work showed that leptin alters some reward pathways, whereas the current studies are looking at how this may be happening at the cellular level."