Sylvia Safdie's art is inspired by nature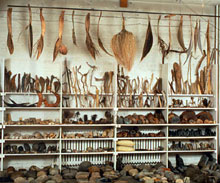 It was her days spent watching ant hills that inspired Sylvia Safdie to become an artist. At a young age, she observed the natural world with fascination, and collected bits of driftwood, coral and rock.
Decades later, they are part of her latest exposition, The Inventories of Invention, at the Leonard and Bina Ellen Gallery.
Safdie, a 1975 graduate of Fine Arts at Concordia, said she feels our formative experiences are the ones that stay with us. Nature was one of few constants of her childhood. Born in Lebanon in 1942, she moved with her family to Israel before immigrating to Canada in 1953; her brother is the well-known architect Moishe Safdie.
"Out of that displacement comes the experience of relocation and finding another language," she explained. "I did turn to nature, because that is what I could feel close to."
Inventories of Invention is a collaborative effort between the artist and curator Dr. Irena Murray, Chief Curator of the Rare Books and Special Collections Division at McGill.
Safdie has taught in the Faculty of Fine Arts and exhibited across Canada, the United States and Europe, but Inventories is her first major solo show in Montreal since 1988. It features a rich assortment of sculpture, video, paintings, installations and drawings done by the artist since 1972.
The emphasis in this show is on the creative process. At the curator's insistence, it includes part of her studio (at left), a large wall unit housing dozens of rocks, fossils, large seed pods, tiny bronze statues, pieces of glass, and curls of bark. Strung overhead are pieces of brush and driftwood.
Some paces away is Earth, an intricate grid of about 50 tiny bowls filled with soil, dried clay and earth of vibrant turquoise, sienna, mustard and other colours; these materials have been gathered from three decades of travel.
The artist explained: "I wanted to draw attention, not to what separates us, not to boundaries, but to what binds us — the earth."
Sylvia Safdie: The Inventories of Invention continues at the Leonard & Bina Ellen Gallery, 1400 de Maisonneuve Blvd. W., until Nov 1. The gallery will be offering an interactive tour of the exhibition as part of Les journées de la culture tomorrow, Sept. 26, and Saturday, Sept. 27, 1 to 3:30 p.m.