Trade with a twist
Fair biz initative is on of four Forces Avenir finalists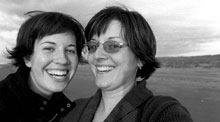 A project co-founded by a Concordia student has won praise from a non-profit consortium of government and business for its approach to international trade negotiation.
CommEx Mission, a student-directed non-profit group that organizes trade missions to countries in Central America, is striving to form equitable trade relationships on behalf of Canadian businesses.
It is one of four finalists for the 2003 Forces Avenir Awards, given by a non-profit group to reward the initiative and community spirit of university students.
CommEx, nominated in the Business and Economic Activity category, was started two years ago by McGill student Louis Dorval and Hugues Mousseau, a political science student in the School of Community and Public Affairs. CommEx now includes 11 students from the Université de Montréal, Waterloo, the University of Western Ontario, McGill and Concordia.
Mousseau got an early start with hands-on trade experience when he visited Malaysia as part of a Junior Team Canada trade mission in August 2000. "[It was an opportunity] from which I've gained experience in the international trade and international relations field," he said.
From this experience he decided to form CommEx, targeting Central America because of the tremendous trade potential provided by NAFTA and the forthcoming Free Trade Area of the Americas.
Unlike their larger, government-organized counterparts, which tend to focus on large enterprises, CommEx's trade missions are affordable and advocate on behalf of small to medium-sized businesses. This is a welcome contrast to Team Canada trade missions, which are by invite only and can cost between $20, 000 and 40,000, according to Mousseau, who said that CommEx trade missions come at one-tenth of that price.
Their first trade mission was to Mexico City in January 2002. Six university students, Mousseau included, went to investigate trade possibilities on behalf of a number of Canadian businesses. The mission was a success. Mousseau cited one Outremont-based business that forged a lasting relationship with a Mexican company. A second trade mission followed in January, 2003 followed, this time to Costa Rica.
"The main goal of this is for us to gain experience," Mousseau said. "We believe that this is an incredible opportunity for us to apply what we're learning in school to a concrete project."
This unique experiential approach to trade negotiations ensures that harmful compromises, which all-too-often work against citizens and businesses in developing nations, are avoided.
"We believe that Canada has a role to humanize this globalization," Mousseau said. "We're the first generation that can experience this globalization first-hand, so we believe that we have a mandate to encourage companies to export with a partnership with a local company — not to exploit a market without being linked to a local producer."
Thus far, the group has been successful, having received letters of support from then Premier Bernard Landry, Prime Minister Jean Chretien and International Trade Minister Pierre Pettigrew. In a letter sent to CommEx members, president and general manager of Forces AVENIR Francois Gregoire called Commex "a model of engagement that inspires others."
At a gala in Quebec City on Oct. 8 to which all the nominees are invited, Forces AVENIR will award 33 grants totaling $114,000.
A finalist in the Personality category was Geneva Guérin, for her contributions to political and social causes, notably the Sustainable Concordia Project. Also nominated in that category was Louise Hénault-Ethier, who has worked to increase awareness of science and environmental causes.