Of Note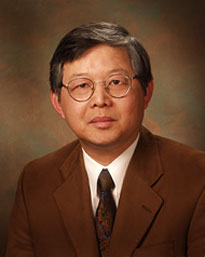 Truong Vo-Van named Vice-Provost, Research
Provost Jack Lightstone is pleased to welcome Truong Vo-Van to the new position of Vice-Provost, Research, for a five-year term, beginning Oct. 1, 2003.
He will be the chief research officer of Concordia, furthering the academic plans and priorities of the faculties with respect to research. He will report to the provost, and through the provost, to the rector, and will be a member of the Rector's Cabinet.
Dr. Van-Vo is a physicist with an extensive research portfolio in the field of optical properties of material and thin films, electro-optic devices and advanced optical instrumentation, particularly spectrophotometry and ellipsometry.
He earned his BscA in engineering physics at the École Polytechnique de Montréal (1970), his MSc in physics at the Université de Moncton (1972) and his PhD in physics at the University of Toronto, and began his career as a professor at the Université de Moncton in 1976.
He is also a seasoned academic administrator, having held a series of senior positions at the Université de Moncton, most recently, Vice-President, Academic and Research. In this role, he played a leading role in the re-orientation of Université de Moncton's academic mission and development plan.
The position of Vice-Provost, Research, has been created at Concordia as part of a determined drive to enhance the University's research profile.
Dr. Vo-Van will be responsible for facilitating and monitoring efforts to enhance and support research, research funding and knowledge transfer; overseeing and co-ordinating relevant representation, lobbying and negotiations with external bodies; ensuring that Concordia has appropriate research policies; and overseeing the services to Concordia's researchers, addressing the specific needs of the faculties.
Other appointments
Welcome to Isabelle Lacelle, who will take up the position of Co-ordinator, International Students Office, replacing Claudette Fortier. Isabelle comes from the John Molson School of Business, where she held the position of Co-ordinator, International Student Affairs, for two years, managing the student exchange program and overseeing the integration and registration of international students into the School.
Welcome also to Dana Inkster, appointed Communications & Special Projects Advisor in the Faculty of Fine Arts. Dana has several years experience working as a communications and media consultant, and is also an independent filmmaker. She holds a BA in Film and Studies and another in Political Studies from Queen's University, as well as a Graduate Diploma in Communication Studies from Concordia University. Dana may be contacted at ext 4606, or in her office, VA-250-1.
Anna Nigoghosian will join the International Students Office an International Student Advisor. She comes from the Financial Aid and Awards Office, where she held the position of Financial Aid Officer. Best wishes in your new post, Anna.
Katie Sheahan heads Recreation and Athletics
Katie Sheahan, a longtime local executive of the YMCA, has been appointed Director of Recreation and Athletics for a five-year term that began July 1.
At the time of her appointment, Katie was executive director of the downtown YMCA and director of its re-development project. She oversaw the creation of the École Internationale de langues du YMCA and the development of community outreach programs such as First Stop, Dialogue and a new day centre for ex-offenders.
She managed operations with annual revenues in excess of $10 million and led the efforts of a team of 200 employees and 100 volunteers. A past president of the Rotary Club of Montreal, she currently serves as its treasurer. She is also a member of the board of directors of Elizabeth House, an organization serving young mothers by providing education, housing and counselling programs.
Katie is a Concordia graduate (BA, honours sociology), with a master's in management from McGill University. She recently graduated from the McGill McConnell master's program.
Campus Recreation provides more than 50 intramural and recreational activities for students, staff and alumni and the public. Concordia's varsity sports program involves more than 300 elite athletes who compete with top Canadian and U.S. colleges. The Department of Recreation and Athletics has a $1.5 million budget and over 40 employees.
Vice-Rector Michael Di Grappa said, in making the announcement, that recreation and athletics programs are an integral part of the university experience at Concordia.
"We recently developed an ambitious vision and action plan for the department, and we are pleased to have Katie on board to lead us through the implementation phase. Through her experience with the YMCA, she has demonstrated her ability to work effectively with a wide range of stakeholders, manage change, fundraise and build a strong and effective team."
Di Grappa thanked Les Lawton, Concordia's legendary women's hockey coach, for his professionalism and dedication in serving as Interim Director, Recreation and Athletics, until the position could be filled.
Jean Brisebois made knight of St. John
Congratulations to Jean Brisebois, director of Security, who was elevated to the rank of knight by the Order of St. John at a ceremony at Christ Church Cathedral in May. He is a past president of the Quebec Council of St. John's Ambulance, and an active volunteer.
He is also a longtime volunteer for other causes, including the Air Cadets League and CAFAT, a group in Laval that helps people with dependencies. He started an awards program for young people who conquer their addictions. The award is linked to the Royal Canadian Mounted Police, in which Brisebois served before coming to Concordia in 2001.
When the commissioner of the RCMP heard about his St. John award, he invited Jean to be a special guest at this spring's graduation ceremonies in Regina, and put an RCMP plane at his disposal for the trip. By a happy coincidence, the son of a close friend was in the graduating class.
The Order of St. John is an international charitable organization whose roots go back 900 years. It is focused on training and community service, notably through St. John's Ambulance, which provides first aid and CPR courses to the public and patrols large-scale public events.
Alain Benedetti to head board of governors
Alain Benedetti has been elected chair of Concordia's board, succeeding Lillian Vineberg. A 1970 business graduate of Loyola College, he is a partner and vice-chairman of Ernst and Young accountants, and has been on Concordia's board since 1996.
Rita Lc de Santis, Charles Cavell and Peter Kruyt succeed Richard Renaud and John Parisella. The terms of the chair and vice-chairs have come to an end.
Me de Santis has been a board member since 1999, and is a partner in the law firm Davies Ward Phillips & Vineberg. Mr. Cavell, also elected to the board in 1999, recently retired as president and CEO of Quebecor World Inc., the world's largest commercial print media services company. Mr. Kruyt, a board member since 2000, is chairman of Power Pacific Corporation Limited and president of Power Technology Investment.
Rector Frederick Lowy thanked the outgoing members of the executive, who will remain on the board.
Retiring governors Leo Goldfarb (on the board since 1993) and Sister Eileen McIlwaine (on the board since 1988) have been named Associates of the Chancellor in gratitude for their service. Sister Eileen McIlwaine was also given the title of Governor Emeritus and made a lifetime member of the Corporation of Concordia University.
Named as new board members were Suzanne Sévigny, a vice-president at TD Canada Trust, and Hani Shennib, a surgeon at the Montreal General Hospital and professor of surgery at McGill University. They will represent the community at large for a three-year term ending June 30, 2006.
Brian Edwards, George Hanna, Peter Kruyt, Alex Potter, Ivan Velan and Lillian Vineberg were re-elected for another three-year term as representatives of the community at large.
Sally Cole (Arts and Science) and Rhama Bhat (Engineering and Computer Science) will be the new faculty representatives on the board. Noah Joseph, Natalie Pomerleau and Adam Slater will represent undergraduate students.
Eric Molson will continue as chancellor of the university for another one-year term, ending June 30, 2004.
Outgoing chair Lillian Vineberg thanked outgoing faculty representatives Terrill Fancott and William Byers for ther participation and work on numerous committees of the Board, as well as the outgoing student representatives, Chae Dickie-Clark, Youri Cormier, Sabine Friesinger and Sobia Virk.
Call for nominations for the Loyola Medal
The Loyola Medal Committee is seeking nominations for the Loyola Medal, the foremost honour awarded by Concordia University other than convocations awards and honorary degrees.
The Loyola Medal: In 1961, the Loyola Alumni Association and the administration of Loyola College agreed to the creation of the Loyola Medal "as a permanent tribute to the outstanding leadership and achievement on the Canadian scene." The first medal was awarded in 1963 to General Georges P. Vanier, former governor-general of Canada and a Loyola alumnus. In 1989, it was agreed that the Loyola Medal would be established as an award by Concordia and given every two years to an outstanding individual who meets the specified criteria:
1. Recipients shall be outstanding citizens as evidenced by their character and life philosophy and have made a significant contribution to the Canadian community. They shall embody the ideals and spirit which characterized Loyola College.
2. Recipients will be individuals whose receipt of the award will bring prestige to both the Concordia and Loyola names.
Nomination and selection: Nominations must be received by Ann M. Bennett in the Rector's Cabinet Office, Loyola Campus, by September 30, 2003. The selection process is private and discretionary. The committee will make its final recommendation to the Graduation Ceremonies Committee of the Concordia University Board of Governors. The Board, based upon a recommendation of the Graduation Ceremonies Committee, shall make the final decision of the recipient of the Loyola Medal.
Award presentation: The Loyola Medal will be presented at a ceremony to be held January or February 2004.
Nomination forms are available from the Rector's Cabinet Office at Loyola, AD 224, (514) 848-2424 ext. 4851; or Sir George, BC 215, (514) 848-2424 ext. 4868; or from the Office of University Advancement & Alumni Relations, FB 520, (514) 848-2424 ext. 4856.